The Makings of a Golden Snapback Rally
Gold futures jumped about $22 yesterday. Pretty mundane considering the action we've seen over the past month…
On the other hand, miners are finally perking up. If you've waited patiently for signs of an oversold bounce, you're in luck.
It's no secret that miners have had a tough few months.
"Mining stocks are having a no-good, horrible year," I remarked several weeks ago during our first attempt to play a snapback rally. Keep in mind, I made these comments well before the massive, two-day precious metals correction we witnessed last month. But it didn't make the statement any less true…
Gold was underperforming. But miners were in far worse shape. By mid-March, the Market Vectors Gold Miners ETF (NYSE:GDX) shed more than 30% since its fall accelerated in September. Even after gold's big fall last month, the spot price is only down about 13% since Jan. 1. The mining index can't compete— it's down 35% year-to-date.
But yesterday was different…
GDX gained more than 5.5% on the day. IAMGOLD Corp. (NYSE:IAG) led the charge for the miners, rising double-digits before the closing bell.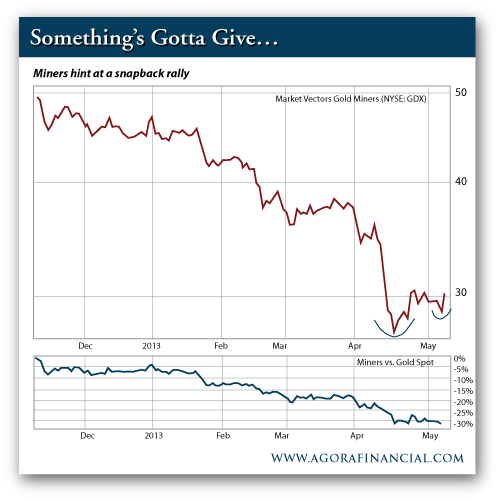 Before you get too giddy, let me to set the record straight. My long-term price target for gold has not changed (I still see the spot price eventually heading toward $1,000). Yes, we're seeing some smaller spikes right now. But I just don't see enough evidence to suggest gold will return back above $1,575 anytime soon.
The opportunities I'm seeing right now are in the miners, not the metal. Yesterday's action looks like the makings of the first higher low GDX has posted in a long, long time. If GDX can manage to close above $31, it could quickly march toward $34 and higher—even if gold prices continue to tread water.
As with any attempt to play an oversold name, you have to watch your position carefully. If GDX can't hold $30, you'll want to get out of the way as quickly as possible. So you're risking about $1 a share betting on a swift snapback move. Not bad at all…