A Phantom Correction
S&P 1,625. That was the official Goldman Sachs year-end target for the broad market.
Even amidst the fiscal cliff fears of late 2012, 1,625 wasn't an incredibly bold prediction. Strategists tossed higher (and lower) numbers out to the masses. The financial media made its lists, chastising firms with the guts to predict any number a few percentage points outside of the safest bets. You know the drill…
But unless you just washed up on a beach somewhere, you also know the S&P already tagged 1,625 last week. By Thursday afternoon, we saw new all-time highs topping 1,635.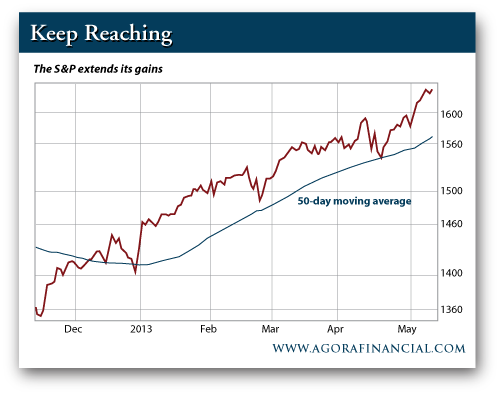 So here we are. It's the middle of May and the market is roaring higher, taking out most year-end price predictions before the kids are out of school for the summer.
Of course, more gains are possible from here. But that's far from the consensus viewpoint. Everywhere I turn, I'm hearing calls of a market correction. Analysts expect stocks to take a break. They want a pullback. Some are even predicting a swift correction of 10% or more to materialize any day now…
I understand where they're coming from. The market is in full melt-up mode, extending further above its longer-term moving averages every single day. Both fund managers and armchair investors are waiting for that magical pullback to materialize. They want that perfect buying opportunity again—just like the one they missed six months ago.
However, market data isn't pointing toward a correction just yet. No one's selling yet. Instead, what we're seeing is a shift in what everyone is buying—a phantom correction that most people won't even notice.
I've been hyping up the big, boring consumer names all year (my tobacco, toothpaste and toilet paper companies that have handily beaten the averages in 2013). But last week, this group trended lower. Utilities, another traditionally safe sector, was hit even worse.
Instead of these safer names leading, riskier stocks helped pushed the market higher. Technology names blasted higher. Materials broke out and helped lead the market to record heights. This shows that we are finally seeing investors beginning to believe in the market again. If you're looking to play the momentum shift, tech and materials are great starting points
On the other hand, if you've waited patiently for the big consumer names to come back to earth, you will have a great opportunity to buy as they cool off. These mini-corrections won't be visible in the major averages if offensive sectors take the lead and push the broad market higher.