Flight to Junk, Part 2
There's an easy recipe you can use to root out the strongest stocks on the market right now.
According to yesterday's Financial Times, the market's recent top performers share some important characteristics. You just need to look for three traits…
First, the stock should have a ton of shares sold short. Next, it should have a relatively small market capitalization. Finally, analyst ratings should be decidedly negative.
"The analysts' ratings category has seen the worst 50 stocks rise 9.5%," FT reports, "while the 250 stocks that lagged behind the broad market during the first quarter are up more than 7% since April."
That's right— the most poisonous stocks on the market continue to beat the averages this month. Even the S&P's most heavily-shorted stock (and unofficial "most-hated" name on Wall Street) is off to the races. Cliff's Natural Resources is up more than 21% over the past four weeks, compared to a gain of less than 7% for the broad market…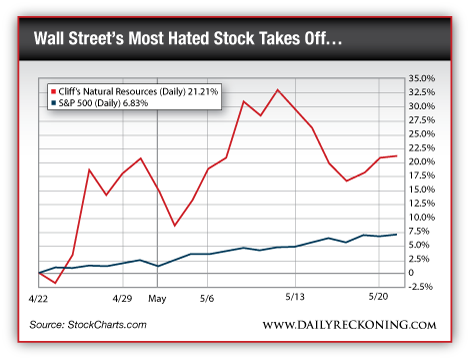 When you start to scrape the bottom of the junk stock barrel, you'll notice some crazy gains. A lot of left-for-dead momentum names from years ago are running. Just yesterday afternoon, I counted 11 China-based stocks that popped more than 10% on the day. Every one of them is a small-cap or micro-cap. Only a couple boasted anything close to profitable numbers…
Now, I'm not saying you should call up your broker and buy a bucket of crappy stocks. And you shouldn't take all of this crazy action as a sign of an impending market apocalypse, either. It's good to see some of these less-than-perfect names making a run. It demonstrates that investors are willing to take on more risk. We needed to see some rotation into different sectors to keep the rally afloat, and that's exactly what we're getting.
Of course, a lot of these gains won't stick for more than a few days or weeks. But some of these beaten-down sectors could be flashing signs that they're bottoming out and ready to move considerably higher. I'll have more to say about this soon enough…
Regards,