How to Play a Front Page Rally
It's been more than a week since I last checked in with you.
But it's summer. Nap time for stocks while the big money hits the beach, right? What could we have possibly missed?
As it turns out, quite a bit…
For starters, the Nikkei continues its plunge into the abyss. As of yesterday afternoon, the Japanese index cut its gains to less than 28% so far this year. Sure, this performance easily tops the broad market stateside. But the Nikkei was up 50% year-to-date just two weeks ago. That's a dramatic drop no matter how you look at it.
When the Nikkei first cracked, I told you we'd be in for some wild price action. Sentiment has quickly shifted from euphoria to panic. The pot's boiling over because the stove got too hot. It's that simple.
Turn on the news. It's a mess out there. Emerging markets aren't looking very healthy. Turkey is tanking as protests intensify. Meanwhile, the U.S. looks like the world's last decent hiding place. Sure, the Dow and the S&P have fallen from their respective highs. That's fine. The market needed to cool off. Friday's sharp drop into the afternoon bell was just the medicine it needed.
As long as we maintain a sense of balance, stocks should encounter few troubles as summer approaches.
Unless…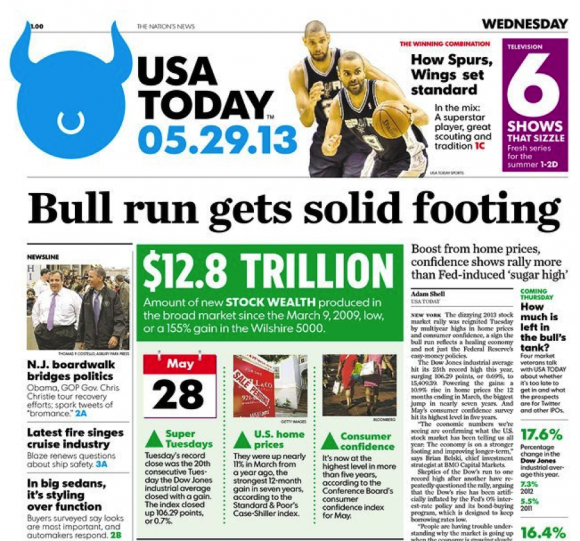 Oh come on… who invited these guys to the party?
It looks like the business traveller's favorite hotel doormat caught wind that the market's moving higher this year. Not only is the colorful rag pondering the potential longevity of the current rally—it even changed its blue logo into a silhouette of a bull.
Don't get me wrong—I didn't expect the market's performance to stay a secret forever. Still, I don't like it when stock stories migrate to the front page of the big papers. It's only fitting that the market has retreated since this cover appeared last week. The perfect scenario moving forward would be a false move lower that shakes out the late money and attracts new short positions. That'll give us a healthier balance…
But as I've said time and again—you can't time the market using headlines and magazine covers. Still, it never hurts to add a little caution to your routine when the non-financial types start foaming at the mouth over stocks.
Ultimately, the longer-term trend remains higher. So the rally remains innocent until proven guilty. Use this pullback as an opportunity to reevaluate your positions. Even if stocks trend sideways for a while, new leaders will emerge. The market will reward your patience.