The End of "Easy Lifting"
The markets ended yesterday's session considerably lower.
But that's only part of the story…
Under the surface, things are starting to look dicey. The momentum that propelled stocks higher earlier this year? Gone. As a result, we witnessed the Dow's first 3-day losing streak of the year.
Yesterday's broad move lower also featured 72% of all U.S. stocks ending the day in the red. For the first time in months, a majority of them are now below their respective 50-day moving averages.
"Buying is suddenly becoming less automatic given the backdrop of the Fed narrative," Knight Capital Group's Peter Kenny told Bloomberg. "It appears as though whenever the market pops its head up and trades in the green, institutions lighten up, hedge risk and provide supply. It appears as though the easy lifting is behind us."
That's how you get days like Wednesday. The market opens higher—only to endure wave after wave of selling and a rough 4 p.m. landing.
The easy lifting is indeed finished for now. Instead of buying every pullback that even slightly resembles a dip, traders and investors are now having second thoughts. Gains are not automatic. The summer chop is upon us.
Now what?
Get ready. It's going to be a grind. You have to prepare for anything and everything.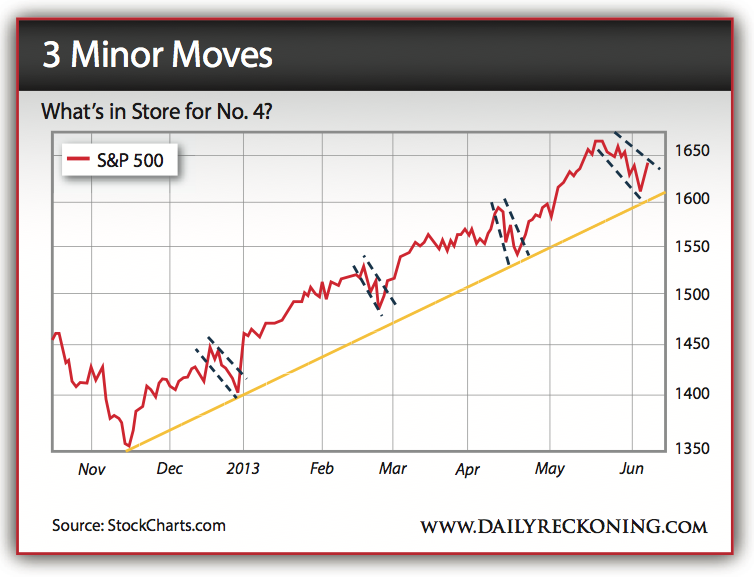 So far during this seven-month rally, we're experienced three minor corrections that have resulted in strong upside moves. Now we have our fourth correction. So far, it has been the longest (and deepest) pullback of the rally. And it didn't bounce with the same force. Instead, stocks abruptly turned lower. This morning, we could very well see more downside action. It happens. Deal with it.
This is the hard part. This is where you have to understand that 5% corrections are normal occurrences.
"A 10% correction comes around every once each 2 years, and that we can count on three corrections of 5% over that same time period," Barry Ritholtz reminds us.
If you're a trader, get ready to sell if the market begins to crumble. If you're a longer-term investor, you should have no trouble holding through the chop.
Regards,