Shearing the Market's Many Sheep
In late May, this year's market rally found its way to the front page.
Up until this "breakout" in public awareness, the markets were relegated to the dark corners of the financial press.
But of course, the Johnny-come-lately crew had to deal with immediate disappointment. Stocks started to fall behind as soon as the bull market got its top billing. The universe aligned perfectly. On one hand, we had an overextended market that was ripe for a pullback. On the other, more economic concerns—this time of the Fed variety, including interest rate and tapering speculation.
Ultimately, this is the medicine stocks needed. Despite what the worried headlines tell you, it's good to see the market take a breather after a scorching start to the year. A few weeks ago, I wrote that a false move lower that shakes out the late money and attracts new short positions would give us a healthier balance.
Now, just a small touch of volatility has put many market watchers back on the bearish side of the fence…
"Last week's whipsaw action left many market participants feeling like sheep about to be sheared," says our own Steven Sarnoff. "Though the week ended looking lower, overall erratic and indecisive price movement calls for rest. Sometimes, the smartest thing a trader can do is stand aside."
Sure, it sucks when the market tells you to sit on your hands. But ultimately, buying and selling at every hiccup will drown your account.
By now, you know the drill. The longer-term trend remains higher. You can this pullback as an opportunity to reevaluate your positions and prepare your next plan of attack. Even if stocks continue their sideways journey, the market will reveal new leaders.
Meanwhile, the S&P is stuck on pause: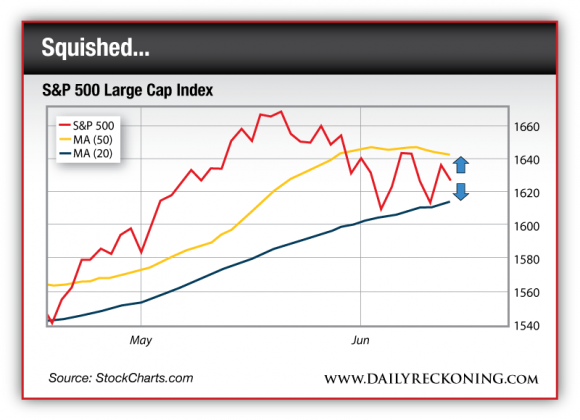 Note how the index is getting squeezed between its 20-day and 50-day moving averages. We need to see price hold above the 50-day moving average if we want the market to maintain its "innocent until proven guilty" uptrend. And if you're looking for upside momentum to return, you'll want to see price finally break above the 20-day that held it down during last week's chop-fest.
Regards,