How to Ride Out a Correction
The summer chop has quickly turned into summer slop.
Yesterday, the Dow Jones Industrial Average suffered its biggest one-day decline since last year. If you're keeping track, that last 300-point swoon came the day after Obama was elected to a second term. That was also just a couple of weeks before investors sparked a rally that would take the Dow from 12,500 to never-before-seen highs topping 15,400.
The market melt-up went uninterrupted for months… until yesterday. Now, the broad market's uptrend has lost the benefit of the doubt.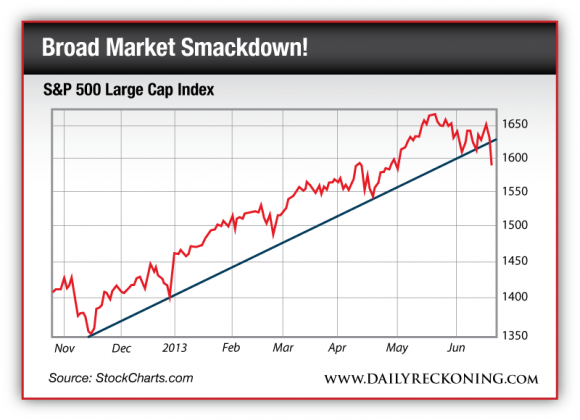 So what does it all mean?
As I told you even before the market fell flat on its face, the easy-going conditions we enjoyed most of this year are gone. Earlier in the rally, we endured just three tiny corrective moves that immediately resolved to the upside well before any real worry could set in.
Yet even before yesterday's slaughter, the current correction that began just last month had been the deepest pullback of the 7-month rally. It didn't bounce with the same force that we saw earlier in the year…
Now, the market's down almost 5% from its May peak.
Could we see more downside action? Absolutely. The market could chop its way lower the rest of the summer. Remember, these 5% and 10% corrections are all part of the game. If you're expecting the market to glide higher without interruption, you're going to leave the party disappointed.
As you slog through the next several weeks of market action, you need to avoid the circus of speculation surrounding Fed policies and other media-assigned "reasons" for the correction. Anyone trying to trade the news will get badly burned as the market feels its way through the summer. Don't get sucked into the storyline.
For now, you know the drill. If you're trading, you probably had a few stops trigger yesterday. Sell and prepare for your next move. If you're a longer-term investor, you should hang on tight for now…
Regards,