Nowhere to Hide
China crumbled while you were sleeping.
The Shanghai Composite coughed up more than 100 points, posting its worst loss in four years. It appears that the beginning of a potential credit crisis is materializing in Asia, sliding China's stock situation from bad to terrible. The year-to-date return of the Shanghai was already in the red before this morning. After today's pummeling, the composite is down nearly 14% on the year.
Of course, the drop shook what little confidence was left throughout the world markets. I won't bore you with a list. Just know everything is down, down, down. The only green you'll find on your screen today is courtesy of the greenback…
Now it's time for some serious work. How does this all play out? Are we staring a new, powerful bear market in the face, or just another few months of turmoil before the market finds its footing?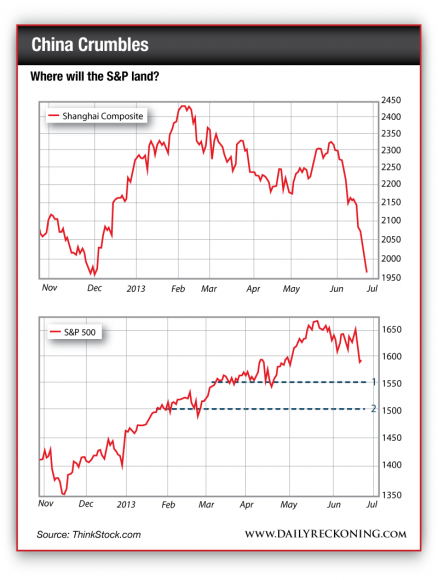 "I would suggest that almost all of the downward movement in U.S. futures this morning is due to the concern over the state of the Chinese economy and the implications for the rest of the world," Spotlight Ideas managing partner Stephen Pope told MarketWatch. "I am convinced we have overdone the downside with regard to that [Fed] story, but now with China we have another excuse to trade with timidity."
That may be true. China fears might be the sole driver of this roller coaster to hell. U.S. traders might also have overcooked their Fed fears. But that doesn't matter right now. The path of least resistance is clearly lower from here. I think it's much too soon to begin discussions about whether or not the severity of any particular drop is justified. If the market wants lower prices, that's what it will get.
Instead of trying to wish the market back on its feet, you should start your search for potential downside targets. I've already marked a couple of short-term congestion zones in the above S&P chart. Both are near round-numbers (1,550 and 1,500) and both are spots where this year's rally took a breather.
How the market reacts at these levels will be telling. If we see the index hit the brakes at either spot, we can at least expect a temporary break from the carnage. But if the market continues to knife lower, we'll have to begin considering longer-term implications of a sustained move lower.
The key right now is to remain nimble and objective. As long as you're willing to adjust your outlook as this correction progresses, you'll stay several steps ahead of the herds of "stay and pray" investors glued to the financial news networks.
Regards,