Anatomy of a Record Slump
It's a quiet morning.
Stateside, stocks continue to slowly melt higher after Monday morning's big selloff. The Shanghai Composite is barely in the red today after a week of credit-crunch turmoil. European shares are higher.
So far, it feels like an average day—the first time a meltdown in some corner of the world isn't affecting our markets. That is, if we completely ignore what's happening with precious metals right now.
You guessed it: gold's getting clobbered again. The yellow metal lost a cool $50 overnight, dropping to a low of $1,223.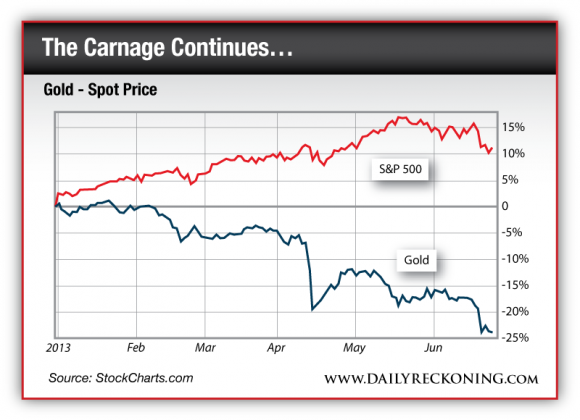 For the record, this chart uses data from yesterday's close. Last night's action isn't reflected. Gold is actually down more than 25% year-to-date. That's bad, but not nearly as bad as spot silver, which has coughed up 40% since Jan. 1. I'll give the serious journalists one more crack at it before wrapping this up:
"Prices could slide further," Reuters reports, "some investors saying below $1,000 per ounce – while there is little potential for data, market trends or economic developments in the United States or Europe to reverse an accelerating investor move out of gold."
Finally…someone is catching on. Gold has telegraphed every step lower so far this year. If you've paid any attention at all, the breakdowns have been nothing short of obvious. And all it took was gold's worst loss on record for some folks to snap out of it (yes, it's that bad. In fact, the slide is the biggest quarterly loss since Reuters started tracking the data in 1968.).
So there you have it. The carnage can now officially take its place in the history books…
Meanwhile, my take on precious metals remains the same. This latest drop is just another leg on gold's ride to $1,100 – $1,000.
Now's not the time to begin looking for a move higher. The path of least resistance is lower. We have a ways to go before thinking about a meaningful rally—let along stability.
Regards,