How to Spot a Relief Rally
The second half of the year began quietly yesterday.
The broad market sprinted out of the gate. But as the day wore on, stocks started to sputter. While the major indexes still managed to finish solidly in the green, Monday was hardly a victory for the bulls.
For the third trading day in a row, the Dow Jones Industrial Average failed to reclaim its 50-day moving average. The S&P also failed at its 50-day. It's clear that stocks aren't ready to reclaim higher ground just yet.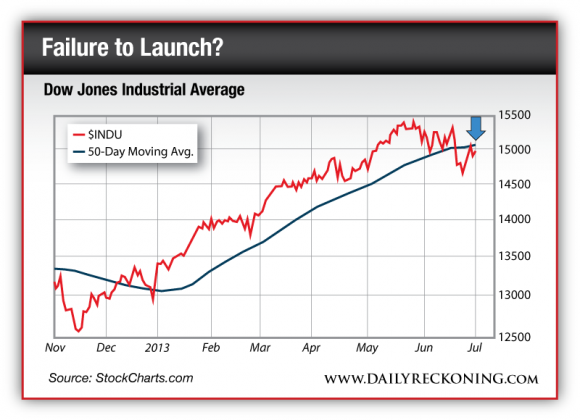 A rising market can easily hypnotize investors. They forget the sharp June pullback. They don't remember that the broad market is more than 75 points from its all-time highs set back in May. Stocks are recovering, they reason, so everything must be fine…
However, the market is telling a much different story. Trading volume has been sparse over the past week as stocks have moved higher. This signals a lack of conviction on the part of the buyers. Sure, price is melting higher. But there's no force behind the move. Yesteday's quick turnaround right at resistance is telling.
Bottom line: stay skeptical. Don't put all of your trust in this relief rally. In fact, I wouldn't assign a lot of meaning to any of the small moves stocks attempt this week. After last week's low-volume move higher, we're entering an abbreviated trading week for the U.S. markets. The market closes early tomorrow—and doesn't reopen until Friday morning. As a result, I don't expect we'll see a lot of action. Expect another low-volume week. This creates an environment ripe for fake moves and quick, painful turnarounds.
If you're sitting on open gains, this morning would be a great time to take profits. Another failed attempt at higher prices here could quickly send stocks lower. Don't get left holding the bag…
Regards,