When to Buy the Correction
Another day, another "rip 'n dip" market…
For the second day in a row, stocks shot off to a hot start, only to trickle lower and finish slightly in the red. Once again, the major indexes failed to reclaim enough territory to buck the short-term downtrend. Tuesday also marked the fourth day in a row that saw the Dow fell back right at its 50-day moving average.
But don't worry— you can untether yourself from your computer monitor early today. The markets close at 1 p.m. And thanks to Independence Day falling on Thursday, we get a lonely Friday trading session to finish up the week. Expect low trading volume through Friday.
Even though this is a slow week, it's still important to get your bearings. If stocks do follow through with another move lower, where will they land?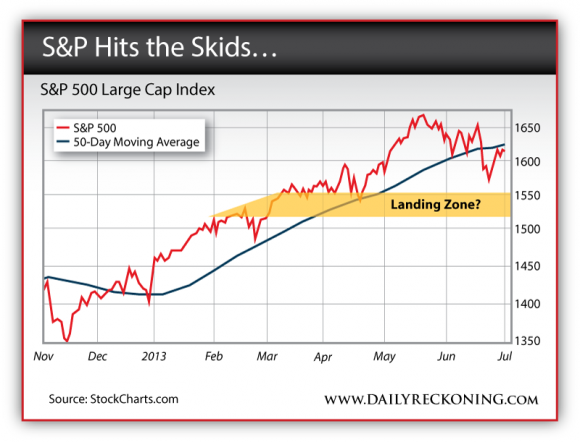 I think we'll see the broad market sneak lower from here. Futures are a little off this morning, upside momentum is gone, and we're entering the summer doldrums. All of this adds up to a sideways or falling market for a little while—which is great news for investors.
No, I'm not suffering from heat exhaustion. This correction is actually a good thing. Let the market bleed out the latecomers. Get the bull market stories back off the radar. That will set us up nicely for a meaningful bounce toward the end of the summer.
My best bet is that we see stocks bounce as the S&P approaches 1,525. That's the area that will provide you the perfect low-risk entry point for new investments.
As for right now, the game plan remains unchanged. If you're stubbornly sitting on open gains, take a little off the table. You'll have a chance to buy again soon enough…
Regards,