Busting Up the Great Earnings Myth
Earnings season began with a bang yesterday afternoon. First-reporter Alcoa smacked a home run, beating estimates by a full penny.
Shares spiked above $8 after hours on the news. Never mind the fact that the earnings "beat" was really nothing more than a case of analyst revisions. Sorry to kill the vibe— but earnings headlines are usually a complete farce.
If Alcoa had reported those same numbers just a few weeks ago, the headlines would have been different. Over the past month, 12 out of 17 analysts lowered their earnings estimates for Alcoa, according to MarketWatch.
In fact, most companies lined up to report second quarter earnings are facing downward revisions.
"Wall Street analysts now predict that earnings for companies in the Standard & Poor's 500 rose 3 percent in the second quarter compared with a year earlier, according to a survey by S&P Capital IQ," reports the Associated Press. "But as recently as April 1, they thought earnings would rise nearly 7 percent. At the start of the year; they forecast a 9 percent increase."
This is nothing new. You might recall that more than three-quarters of S&P 500 companies issued negative guidance before first quarter earnings. You might also remember that sluggish earnings had little to no effect on the broad market's rise.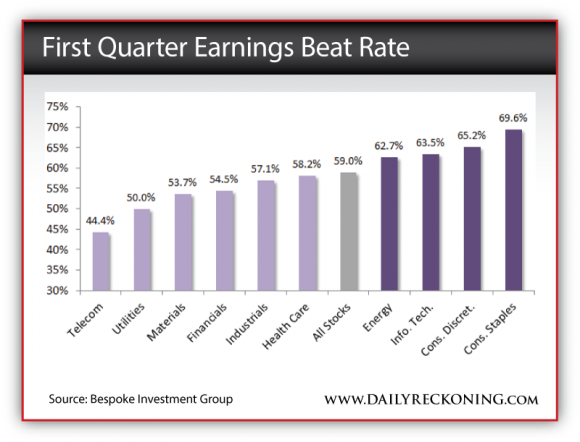 Many of the big, popular stocks beat estimates (whether the estimates in question were revised lower or not). The expectations mattered much more…
It's amusing to watch the media and investors live and die by every penny. They'll argue about fast growth, slow growth, and no growth. They'll pick apart what the guidance will mean for the company's stock over the next three months, then kick and scream when shares have the exact opposite reaction the next morning.
Now, I'm not saying that earnings don't matter. It's just that expectations matter a whole lot more. If you're looking for new names to play as we dive deeper into earnings season, you should keep your eyes on the groups of stocks on the right side of today's chart. That's where you'll most likely find the pleasant surprises…
Regards,