Getting it Wrong
Futures are flat this morning. The broad market might finally take a break after a four straight days of gains shot the S&P to within 1% of its all-time highs.
So much for the summer chop…
Last week, I was skeptical of the market's ability to get over the hump. I didn't get particularly excited when stocks ripped higher Friday. After all, it was a low-volume day surrounded by a holiday and a weekend—in the middle of the summer, no less.
I was dead wrong. This market is taking no prisoners. In less than a week, the S&P went from ailing to awesome. It's now in spitting distance of new highs.
A couple of big breakouts are now pointing to higher prices for stocks in the coming weeks…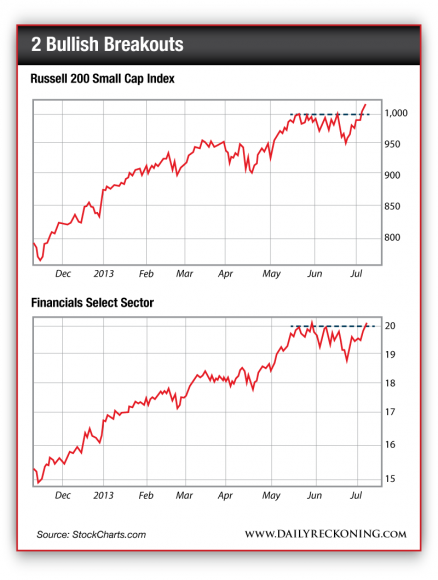 First, we've got new all-time highs in the Russell 2000 small-cap index. After a few failed attempts, the Russell blasted through 1,000 for the first time ever, posting a strong follow through to kick off the week. Strong small-caps are a huge plus for the broad market. It demonstrates that investors are more than willing to take risks. Small-cap strength is helping to lift the Nasdaq toward new highs, too.
It's not just the smaller stocks getting all the attention. Financials are also busting loose, posting new post-financial crisis highs. That's also very telling. Financials have helped lead the S&P higher since late 2011. For the past year and eight months, the financial sector has returned gains of more than 57%, compared to a 30% rise in the S&P over the same period.
Even though we're in the dead of summer (and the beginning of earnings season, no less), I see little standing in the way of higher prices. Remember earnings expectations are just terrible again this quarter.
Check out what I dug up earlier this morning from Reuters:
122 S&P 500 companies have issued earnings pre-announcements. The ratio of negative-to-positive pre-announcements was 6.5-to-1, the largest percent of negative readings since 2001. That's incredible—especially when you consider that the market was near rock-bottom in 2001. Today, we sit near all-time highs. The earnings bar is so low. It will be tough for any huge disappointments to gain much traction in the broad market
Dust yourself off and cover your shorts if you haven't already done so. This market wants more…
Regards,