Slapping Down the Short Sellers
You should know the drill by now…
New all-time highs for the Dow. Same goes for the S&P 500.
The good vibes have even spread around the globe. The Stoxx Europe 600 index is up more than 3% on the week. The Nikkei is up modestly today. Yet over the past four weeks, the Japanese index has gained nearly 10% after nearly melting down in late May.
Make no mistake about it— this huge move higher we are experiencing is broad and strong.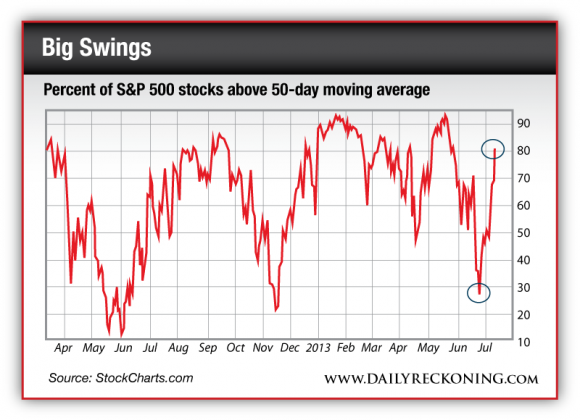 Not two weeks ago, the number of stocks trending above their respective 50-day moving averages had plummeted to the lowest level we've seen since November 2012. After a breakneck turnaround, more than 80% of S&P listed names have snapped back above their respective 50-day moving averages.
There's been talk that the Fed's pronouncements this week have sparked a massive short covering rally—which in turn has helped ratchet up the gains.
That makes sense. A lot of people (including me) were expecting the market to correct further before finding its footing. Yet according to Bespoke Investment Group, stocks with high levels of short interest aren't leading the market:
"[T]he 150 stocks with the highest short interest are up an average of 0.96%, which is only slightly ahead of the average return for all 1500 stocks in the index (0.95%). Additionally, the three deciles with the highest short interest are up an average of 0.85% today, while the three deciles of stocks with the lowest short interest are up 1.05%. These kind of returns hardly indicate that shorts are scrambling to cover."
If the shorts are still clinging to their positions, it would not surprise me to see an actual broad-market short squeeze if the market provides a tight consolidation before moving higher.
If we've learned anything at all this year, it's that there is an incredibly strong bid under this market. Anytime a potential short selling opportunity has arrived (outside of the mining sector) stocks have roared higher.
You'll probably hear a lot of talk about market tops and short selling opportunities in the coming days. But from what I've seen, they are to be ignored. Short this market at your own risk. Right now, it looks like a great way to dismember your brokerage account…
Regards,