Play This Sharp Summer Rebound
July was a great month for stocks. The major indexes pushed higher. More all-time highs were posted. With the S&P up nearly 19% year-to-date, it's a good time to be in stocks.
However, July also had its fair share of surprises.
While investors fretted over earnings and rumors about Bernanke's potential replacements, gold snuck higher. In fact, gold actually outperformed all of the major stock indexes in July. I doubt many people even noticed. Did you?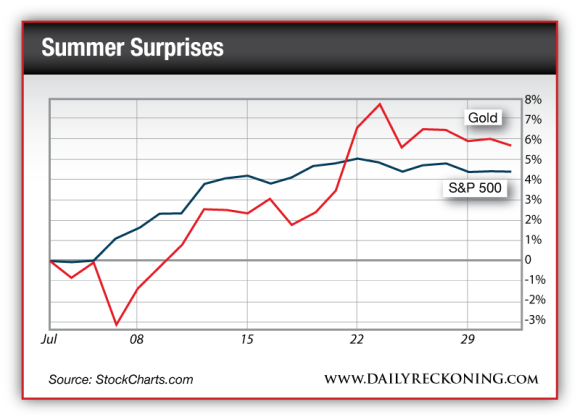 It's not just the metal that sporting a comeback right now. Miners are actually leading the way this summer. They're up a collective 8.4% since July 1. This is impressive performance. Plus, we're entering what is traditionally one of the strongest seasons for gold right now (August and September are historically two of the best months to own gold).
Before you blow a gasket, I'm not suggesting that gold is ready to take off toward its 2011 highs. In fact, I don't even think the metal has hit rock bottom yet. I have not abandoned my $1,100 – $1,000 long-term price target.
However, there is opportunity in gold right now, whether you're looking to play the SPDR Gold Trust ETF (NYSE:GLD) or one of the riskier leveraged ETFs. But only if you're careful. I'm talking about a date—not a wedding. Don't come crying to me if the metal can't hang onto its gains in the long run…
Regards,