Three Telling Stories, One Disruptive Company
The Internet is one of the greatest inventions of all time. Yet for nearly a decade, Internet providers have underwhelmed consumers. That's going to change, soon.
We're entering a time of new ideas, innovation and consumer choice.
New technologies are enabling The Internet of Things, a phenomenon where the digital world and real world are increasingly in sync. We're going to need much more data storage, rapidly evolving applications, platforms and services. This is just scratching the surface…
Bottom line: we're going to need better Internet.
Today, we're going to review the state of the internet-providing market. Then, we'll take a look at one startup with a strategy that seeks to disrupt the giants in the industry. If it succeeds, it will change the future of how you use the internet, and save you a lot of hassles along the way.
The Legendary Hammer That Started a Revolution
"You know, this country wasn't started by people sitting back and saying, 'Gee, OK, let the English do as they please,'" said the 70-some-year-old retired nurse — who on any other day wouldn't hurt a fly.
Not this day. It was August 2007. And this soon-to-be vigilante was out to settle a score.
Mona Shaw had scheduled an appointment with her local telecom to install in her home its much ballyhooed "triple play" service (combining phone, cable and Internet).
Not only had they failed to show up on Monday — arriving two days later — but come Friday, they shut off Mrs. Shaw's service altogether.
What did she do? She rallied her husband and marched down to the local branch, asked for the manager, and waited. And waited… And waited… Until two hours ticked by.
Finally, a customer service rep informed Mrs. Shaw that the manager had, in fact, left for the day. She had had enough. Shaw went home to fetch her husband's construction hammer.
She returned to the all-too-familiar waiting room. Passed onlookers. Leaned over the counter and began to whack-whack-whack away at telephones, keyboards — anything within arm's reach.
The office went wild. A monitor crashed to the floor. Someone called the police.
The legendary Mona "The Hammer" Shaw then asked, "Now do I have your attention?"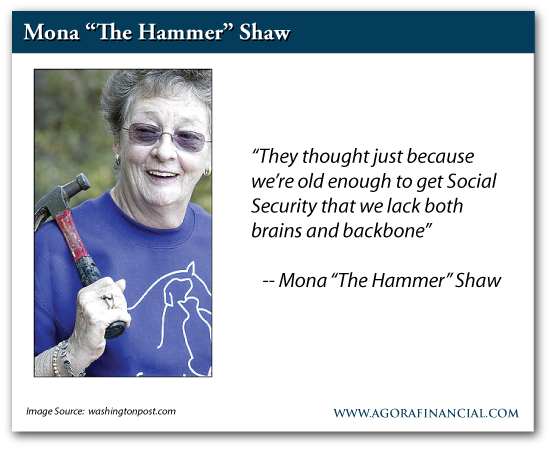 Caption: "They thought just because we're old enough to get Social Security that we lack both brains and backbone" — Mona "The Hammer" Shaw
The Bureaucratic Telecom Industry

You may have heard a version of this story before, but if not, try to guess which company "The Hammer" rained down on. I'll give you a clue: It inspired the blog ComcastMustDie.com.
As both The New York Times and The Washington Post have reported, Comcast has used ComcastMustDie.com to address hundreds of customer service complaints. The blog has since been renamed to CustomerCircus.com, where it continues to apply the same formula to other serial offenders. The industry apparently continues to frustrate its customer base.
So how do companies like Comcast continue to grow, despite deplorable customer service?
People are apparently willing to sacrifice many aspects of these services for the sake of an Internet connection. And more specifically, for the sake of high-speed Internet connection.
Internet speed is an increasingly crucial driver of sales. That's why, while Interest in cable television service has declined across the board, Comcast's profits are still growing from Internet subscriptions which provide much wanted Wi-Fi. Time Warner's numbers show another example of this trend: 21% of its broadband customers subscribe to its more expensive higher-speed services, compared with just 9% three years ago.
But there is a bigger fish in the sea than these big telecom companies. Any investors in this space must be aware of its looming presence. That brings us to our next story…
The "Bid" for the Privilege of The Internet's Leading Light
The clearest cry for help was heard around the country in 2009. The U.S.' average broadband speed ranked 18th in the world (it has since improved to ninth, but is still quadruple the price compared with the same speeds in other countries), according to Internet monitor Akamai.
Google announced that it would choose one or more communities to beta test Google Fiber, its faster-than-light speed broadband. It's user-friendly, affordable and over 150 times faster than most other carriers'.
Yes, 150 times faster. The response was remarkable. Only 50,000-500,000 installations could be in the experiment, but that didn't prevent anyone and everyone from competing for nomination.
Over 190,000 individuals and 600 entire communities submitted applications. Up went Facebook pages. Out went flurries of Twitter feeds and emails. Communities offered instruction on how best to win the privilege of Google Fiber.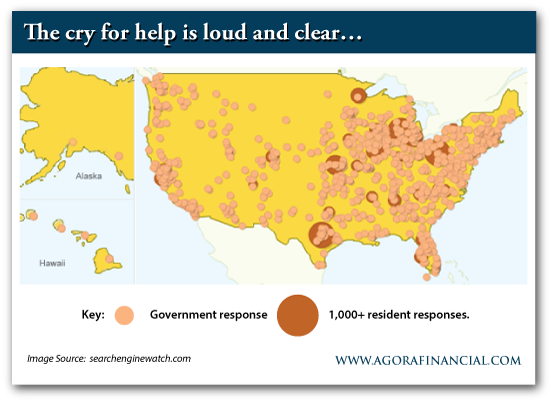 Contestants used more than words, though. They put their hearts and souls into it. In some cases, they risked their own physical safety.
The mayor of Topeka, Kan., proclaimed that for the entire month of March, Topeka, Kan., would be renamed Google, Kan. They even renamed their elementary school.
Not to be outdone, Sarasota, Fla., renamed its City Island Google Island and released a video that contrasted the positives of the Sunshine State with the dreary Kansan landscape of snow and ice. Then the mayor swam with sharks, just for good measure.
Long story short: The beta tests for Google Fiber were awarded to both "Kansas Citys": those in Missouri and Kansas. "It has invigorated our entrepreneurial base," according to Sly James, mayor of the former:
"When Google came, it was kind of like we got this fantastic puzzle, but it had no picture on the box to tell us exactly what it should look like when it's done… we get to decide [that]. And we have very bright people who can use it in different ways…"
Google Fiber announced in April plans to move to Austin, Texas, and Provo, Utah, along with a dozen other Kansas and Missouri cities. When it comes down to it, Google is the big fish that threatens to eat all the existing leaders. The thing is there's no way Google can satisfy all that demand anytime soon. That brings us to our third and final story for today, about a startup that can deliver internet to the masses, even though it won't be through state-of-the art fiber optic cables.
A New Business Strategy: Internet as a Right, Not a Privilege

Niklas Zennstrom co-founded Skype with his friend Janus Friis, and later sold the company to eBay Inc. for an eventual $3.1 billion. Microsoft then bought Skype from Ebay for $8.5 billion. At the time it was Microsoft's largest cash purchase in its history. Zennstrom is now an investor in and adviser for FreedomPop, a new player in the Internet and data providing space.
Zennstrom aims to shake up the communications industry with FreedomPop in the same way that he did with Skype. Skype started by letting people make calls between PCs for free, using what's known as Internet Protocol (IP). IP is tech that helped reduce the cost of phone calls, especially international calls. Now, Skype's apps are now available for iPhone and Android, and mobile phone users pay for wireless data plans to use Skype.
FreedomPop is different. It's aimed at providing wireless Internet access for free. More specifically, its so-called Freemium service gives consumers the first 500 MB free. Once you have the physical product, there are no contracts and no bills. It's just free. You can use it to turn your iPod into an iPhone or facetime by setting up an internet hot spot… for free.
Mark Tluszcz, co-founder of venture firm Mangrove Capital Partners and an early investor in both Skype and FreedomPop, sees clear parallels between firms, according to Forbes:
"When I invested in Skype, that was all about making phone calls cheap. People were tired of being ripped off by telcos. Now voice has become a commodity. What's not is data. That's where telcos are greasing themselves"
Skype converted all voice calls into data packets through PCs. FreedomPop does the same but runs them over bandwidth purchased wholesale from Sprint's network. The cost of the wholesale data is one-fourth to one-fifth the price of renting voice minutes. The quality of the calls is much better than regular cell phones, too.
All you need to sign up is get a 4G USB stick, or a variety of other hardware pieces, and you can set up your own hotspot wherever you go. No more Comcast… or hammers.
Within the next few months, FreedomPop will begin selling refurbished phones. "It's like American Gangster," jokes CEO Stephen Stokols, who used to work for British Telecom. "We're sucking up all the inventory," he says after receiving a new batch.
They'll also give away their standard 500 megabytes of 4G data per month, and also unlimited texting and 200 anytime call minutes, plus unlimited calls to other FreedomPop phones. They also have a variety of upgrades that's working very well.
Better cost model, better quality. And a splinter in the giant Telecoms' big foot.
So far, FreedomPop is moving along faster than they expected. If they succeed, the future of all big carriers may move their voice calls over to data networks. The Internet gets bigger. And more competitors join the fray. That's a good thing for investors and consumers. We can't wait
We'll continue to follow this space, whether it's through startups like FreedomPop or giants like Google. Also in the coming days, we'll show you a unique way to profit from tech startups, whether they've gone public or not. So stay tuned!
Best,