Why You Should Avoid Asia
Developed markets in Asia are stinking up the joint. I don't want any part of them—and neither should you.
The Nikkei completely fell apart early this morning, crashing through the 14,000 level as the yen hit a six-week high against the dollar. It looks like the comeback that began in late June might be over for the Japanese index….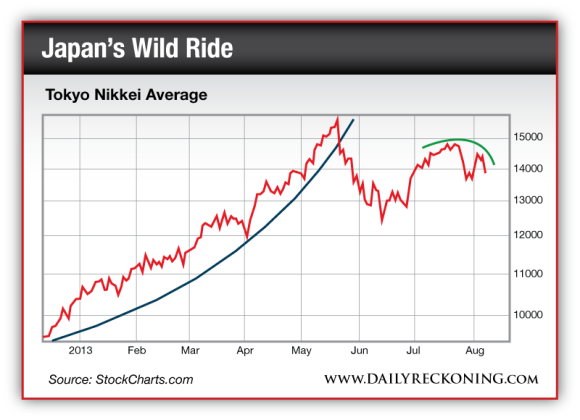 The Nikkei has all of the traits of a market that wants to head lower. Japanese investors enjoyed a parabolic run during the first half of the year that didn't burn out until late May. Now, with another failure at 14,000, additional sharp moves lower wouldn't surprise me at all…
Meanwhile, the Shanghai composite continues to slog along with no real purpose. In late 2011, the Shanghai broke away from the U.S. markets and began to trend steadily lower. While the S&P has enjoyed total gains of more than 50% over the past three years, the Shanghai has dropped nearly 23%.
Still, a lot of analysts and financial media outlets are attempting to guess when China will finally bottom out…
"China watchers are anxiously awaiting official data on growth, inflation and lending that come out later this month," reports the Wall Street Journal. "However, high frequency indicators released earlier than the official figures show that July's performance wasn't the disaster some bears have been waiting for."
Maybe so. But price has not reflected the cautiously bullish tone. The Shanghai composite is down a little less than 10% year-to-date. Sure, it managed to halt its June slide. But the sideways action is hardly bullish when you consider how strong domestic markets have been so far this year…
Bottom line: There are better opportunities elsewhere. Don't get sucked into a Japan or China comeback trade right now. U.S. stocks are setting up for a tremendous year. You don't  have to leave your neighborhood to enjoy the gains…
Regards