Don't Ignore this Market Warning…
Go ahead, admit it. You've tried to call a market top for months.
But you're running out of big worries. And in this market, top-callers get slaughtered.
Here's why you need to keep bearish thoughts in check anytime the market strings together a couple of weak performances:
Since the broad market bottomed in November 2012, we've seen just a small handful of three-day losing streaks. Only one marked a short-term top in stocks.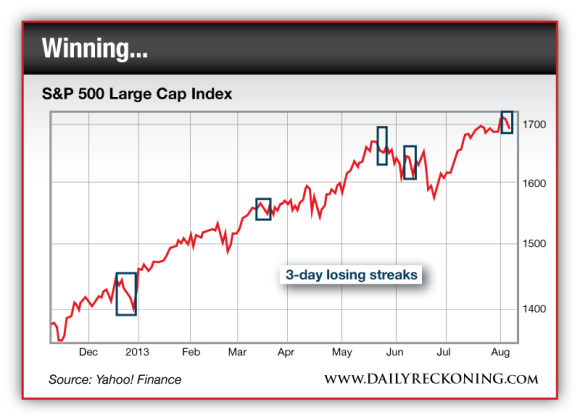 How far do you have to go to find a losing streak of more than three days? All the way back in late December 2012 during the big, bad Fiscal Cliff scare…
That's an incredible display of strength. Every single time appears that stocks are ready to crack, buyers rush in. And every time a potential short opportunity pops up on the radar, the market steps on it like a lazy roach on the kitchen floor…
Many top-callers insist that investors have become too bullish this summer. But I'm not convinced. Sure, $40 billion dollars went into equity funds in July. That's a record. But we'll need a few months of these kinds of flows to offset the more than $400 billion that's come out of equities over the past five years.
Positive sentiment toward stocks is far from extremes. Interest rates are still low. Earnings growth is still OK. People are holding tons of cash on the sidelines. There is no euphoria.
Every market eventually corrects. But it's time to stop guessing at potential tops. The market has sent dozens of warnings to the shorts while marching higher and higher. Don't ignore them…
Regards,