Goodbye Cable TV, Hello Google
By now, you've probably heard of Google's newly unveiled product: Chromecast.
This diminutive device, nearly as small as a flash thumb drive, plugs right into your TV — through the HDMI port. It can stream video content wirelessly from the Internet to your TV using an Android or iOS device, or a PC or Mac, using Google's Chrome browser, as a remote control.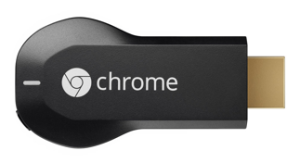 Chromecast could be a really disruptive product. Cable and satellite packages don't really give us much choice over what we get. You can't pick and choose individual channels like food on a restaurant menu. Cable companies force you to order — and pay for — the entire menu in order to get the few channels you might want.
So you get to flip through a bunch of programming you don't like to get to the little bit that you do. Internet video, however, allows you to finely adjust your purchases to my viewing preferences. Yet even now, only a small percentage of homes regularly stream Internet video to their TVs, so the impact on cable and satellite services has been minimal.
Chromecast, however, could help change that, for a couple of reasons.
First is demand. According to a Sandvine report, YouTube and Netflix account for an estimated 49.4% share of all peak downstream Internet traffic in the U.S.
Now with Chromecast, those users can steam that Internet traffic onto their TV's easily.
Second is that Chromecast is very easy to set up.
Hardware setup is simply plugging Chromecast into an open port on the TV and connecting to a wireless network using a setup program. On the software side, video can be sent to the TV from the Internet with the press of a button on your smartphone or PC.
The third big reason is cost. For a mere $35, Chromecast can turn any television into a player for streaming Internet video content. That's really inexpensive.
I couldn't resist the temptation myself, so I ordered one through Amazon. And guess what? My Android phone just turned into the world's smartest remote control.
At this time, video content available on Chromecast not only includes Google's own YouTube and Google Play videos, but also Netflix. Other online video and music providers are on the way. Time will tell if Amazon's own Internet video on-demand service will eventually be supported.
This nifty little device can also play back standard video files hosted by your mobile device or computer. And it's only $35!
The technology that makes Chromecast possible comes from Marvell Technology Group Ltd. Marvell has developed a special processor to enable products like Chromecast — the Armada 1500-mini. It can play high-definition video while consuming very little power in the process.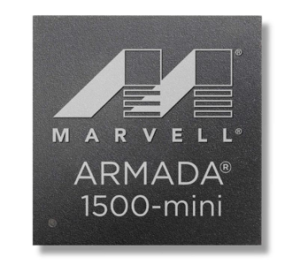 According to Marvell's president and co-founder Weili Dai:
"I am very excited to see the brilliance of the tiny and beautiful Chromecast. I believe this is truly a game-changing solution to drive the new era of the 'Connected Lifestyle' by enabling easy access to online entertainment for an immersive, interactive multiscreen experience across any smartphone, tablet, laptop and big screen. I am very proud of Google's leadership in driving the ecosystem partners to deliver more powerful and very affordable solutions to serve the world of consumers for better lives."
Needless to say, if Chromecast increases in popularity, it should pan out well for the company. We can't wait to see which other companies will ride with or fall off this oncoming wave of technological disruption.
Keep an eye on this space!
Ad lucrum per scientia (toward wealth through science),
Ray Blanco
for Tomorrow in Review