It's Not 1987 Anymore…
On October 19, 1987, the Dow Jones Industrial Average endured its largest one-day collapse in history. According to some pundits, the market's dangerously close to a repeat performance.
Today, I'm going to show you why they're wrong.
But first, you're probably wondering why I need to bring up 1987 again (since I already squashed this issue back in March when it first came up).
Well, as it turns out, the 1987 doomers are back. August is a slow month, so every financial journalist on the planet has found time to tack on a Black Monday question to the end of their interviews.
I'm tracing the latest round of Black Monday warnings to none other than Dr. Doom himself, Marc Faber. Faber says investors should prepare for a 20% drop in the broad market before the end of the year…
"In 1987, we had a very powerful rally, but also earnings were no longer rising substantially, and the market became very overbought," Faber said on CNBC late last week. "The final rally into Aug. 25 occurred with a diminishing number of stocks hitting 52-week highs. In other words, the new-high list was contracting, and we have several breaks in different stocks."
Of course, Faber's warnings are pitch-perfect. After all, the roaring 1987 market peaked in August. Well, it's August right now. Stocks are looking a bit weak and investors are nervous. Comparing today's market conditions in broad terms (overbought, breakdowns in "certain stocks") with the '87 crash can easily gain traction in this environment.
But if you move past the sweeping comparisons, you'll see there's not too much to the story…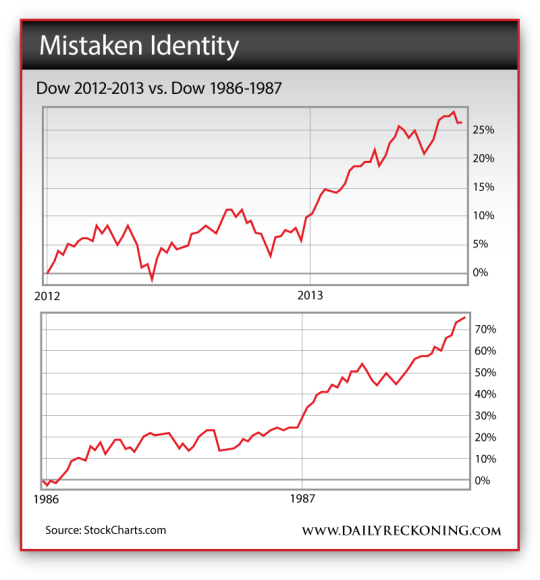 The first problem with the "pick a year to compare" game is that individual years don't exist in a vacuum. You have to place them in context. For instance, the Dow was up almost 23% in 1986, setting up a 20-month run that saw the big index rise 76% by August 1987. That makes the 26% gains the Dow has posted from January 2012 – present appear positively mundane.
Even if we do compare just '87 and '13, the only similarity is that both markets were up Jan. 1 – August. In '87, the Dow rose as much as 44% by late August. As of today, the Dow's up less than 18% year-to-date. That's solid—but hardly the parabolic run-up that preceded the Black Monday crash.
Don't get all wrapped up in these fear-mongering comparisons. It's mostly a pointless exercise that won't increase your returns by a single penny this year.
The consolidation we're seeing (and could continue to see) in the markets is healthy. You should approach any upcoming correction as a potential opportunity—not a harbinger of disaster.
Regards,