How to Beat the Market by Thinking Small
If you think small, you can bring home big gains…
Small stocks are crushing the broad market this year. While the Dow is up 17% in 2013, the Russell has returned more than 23% year-to-date.
This is not an anomaly. Today, we're going to dig a little to deeper to show you how smaller companies have a better shot at outperformance over the long run.
The proof is in a study by Perritt Capital Management. Their research shows the distinct advantage offered by smaller companies…
"A hypothetical $1.00 investment in the S&P 500 Index made at the beginning of 1926 would have grown to $2,592 at the end of 2009, while a similar hypothetical $1 investment made in a portfolio of small firm stocks would have grown to $12,231," the study says. "That's close to a five-fold advantage for smaller company stocks."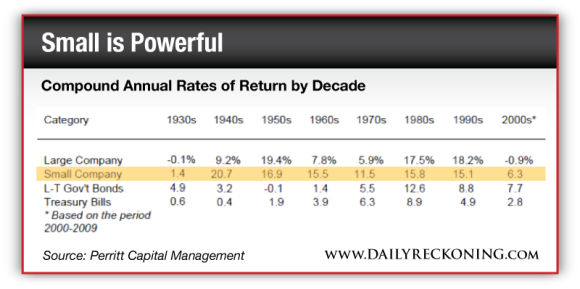 Sure, small firms might outperform over the long run. But they also have a better chance at outperforming over shorter time frames…
"But even over relatively short time periods such as one-year, the odds of achieving over performance favor small firm stocks," continues Perritt Capital Management. "That is, during the last 84 years, small company stocks topped the returns of large company stocks in 52 years or 62% of the time."
Simply put, there is endless opportunity in the microcap world right now.
"The success that these microcap stocks have really challenged the belief that bigger is better," says my new colleague, microcap specialist Thompson Clark. "There are over 1,800 microcap stocks in the space. Many of these companies are profitable, have no debt, and are consistently growing revenue. "
Thompson continues:
"Many of these tiny companies operate in special niches of various markets. They are able to go after profitable opportunities that they bigger players simply can't. They are nimble and lean. Combine this with the limited (if any) coverage and you have a stock picker's playground."
Regards,