Gold's New Rally Begins Now
In the blink of an eye, summer just got a lot more interesting.
Try your best to ignore a sagging stock market for a minute. Today, I want to talk about the intense action we're seeing in gold and gold miner stocks—and how you can play it.
First, here's your ten-second breakdown of yesterday's action:
After dropping below $1,318 in early morning trading, gold futures caught fire. Price steadily climbed from below $1,320 to $1,340. That's when the fireworks began. Just after lunch, gold futures popped $20 on high volume, effortlessly blasting through resistance at $1,350.
This morning, you'll find gold futures near $1,362.
Earlier this week, I told you to keep a close eye on $1,350. That's because a break above $1,350 is a fairly good indication we could see higher prices soon.
It's been a crazy ride—but the breakout is finally here. I expect gold to continue its volatile rise in the near-term. No, I'm not expecting a dash toward 2011 highs anytime soon. But right now, buyers are clearly in control.
The best way to play this rally is going to be the miners.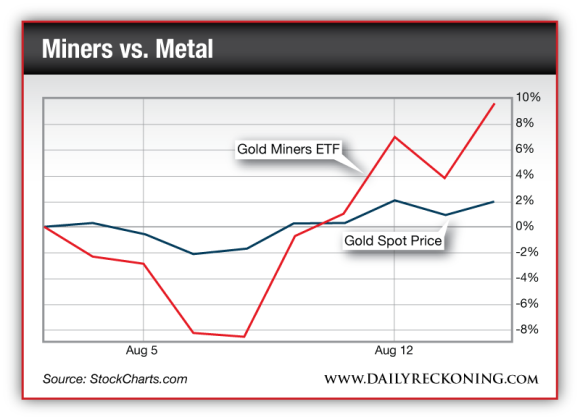 Even factoring in the big move in gold futures yesterday, the miners are outperforming the metal so far this month. Precious metals miners had climbed nearly 10% since August 1 (as of yesterday afternoon). And I expect this group to continue to rise…
You probably recall just how oversold miners were heading into this rally. Miners were down more than 50% on the year as a group earlier this summer. And even at its worst, gold futures were only off about 28% year-to-date.
These extreme oversold conditions will help quickly propel miners in the coming weeks. They're ripe for a trade, so don't hesitate to buy…
Regards,