Avoid the Emerging Markets Storm
The broad market just posted its first four-day losing streak of the year. But you should continue to concentrate on U.S. stocks to help fuel gains in your portfolio.
Why?
Because despite recent market weakness stateside, the rest of the world's performance just isn't up to snuff right now—especially emerging markets.
Take a look: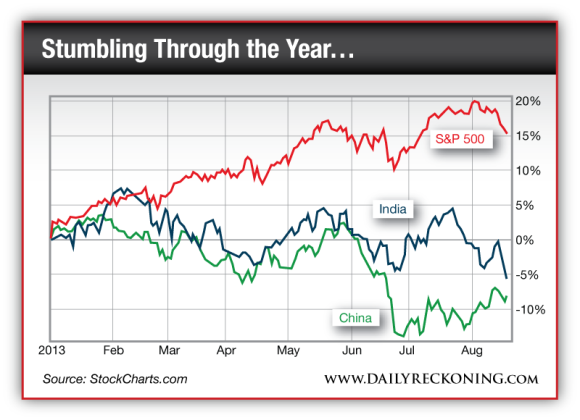 And the chart illustrates just a couple of examples. MarketWatch notes that today alone even the major Asian markets tumbled alongside the once-revered emerging market leaders. Japan's Nikkei dropped 2.6%, South Korea's Kospi lost 1.6% and Australia's S&P/ASX 200 gave up 0.7%, and Hong Kong's Hang Seng Index shed 2.2%…
"The eye of the storm is directly above emerging markets now, two years after it hovered over Europe and four years after it hit the U.S.," Stephen Jen, co-founder of hedge fund SLJ Macro Partners LLP in London and former head of foreign-exchange strategy at Morgan Stanley told Bloomberg. "This could be serious for Asia."
As a result, investors are favoring U.S. stocks over emerging markets by the most ever right now. "Almost $95 billion was poured into exchange-traded funds of American shares this year, while developing-nation ETFs saw withdrawals of $8.4 billion," Bloomberg notes. That's huge…
I know this week isn't looking very promising so far (not even here in ole' USA). In fact, it's been downright crappy. Everything—and I mean everything—closed lower yesterday. Bonds, gold, and stocks. All of them fell Monday.
But it's August. Trading volume is incredibly low right now. While the short-term trend for the broad market is lower, it's not yet flirting with disaster. Conditions can change quickly. We have to react—not anticipate.
In the meantime, except for a select few opportunities, you should not try to bottom-pick emerging markets. It will only lead to pain and suffering for your portfolio…
Regards,