Can You 3-D Print An Airplane?
Can you 3-D print a plane?
That was the question asked by a student in MIT's single most popular class, How to Make (Almost) Anything.
The question seems simple. But the pursuit of an answer has recently led to a whole new method — a whole new field, in fact — for making some of the world's most important stuff.
It turns out that airplanes are a bit impractical to print. After all, the size of the printer would have to be bigger than the airplane. But 3-D printing is perfect for making airplane components — and much, much more — if you use a new method with special materials…
In short, question posed to MIT researchers inspired them to make an ultra-lightweight carbon fiber structure with tiny blocks that snap together like the bricks of a child's construction toy.
Think Legos or K'Nex on steroids.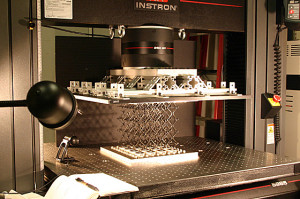 10 times stronger than comparable materials
Not only could this new method revolutionize airplane components such as wings and fuselages, it could also be used to construct bridges and levees — without a large factor.
The work is already under way…
Director of MIT's Center for Bits and Atoms Neil Gershenfeld, who teaches the popular class mentioned above teamed up with postdoc Kenneth Cheung. The team is developing an assembler robot that, like a giant metal insect, crawls over the surface of a growing structure, snapping 3-D printed carbon fiber pieces together, one by one. (Transformers, anyone?)
This new design freedom means that structures can morph in different ways to response to the moment. The entire arm of a robot or wing of an airplane could even change shape mid-action during new loads. And almost unlike every other object made from composite materials, these new structures can be easily disassembled, reassembled, repaired and replaced in individual "bricks". The resulting benefits include reduced vehicle weight, fuel and construction costs.
Cheung plans to begin work this fall as an engineer at NASA's Ames Research Center.
One company collaborating in this new research is Spirit AeroSystems (NYSE: SPR), the world's largest first tier aerostructure manufacturer. This company isn't followed by our editors yet, but you can find specific advice on the best investments in this space here.
The Next Stage In The Click, Print, Anything Revolution
It's a new phase in the 3-D printing revolution.
"We're transitioning now to a stage where not only can the machine make something, but the machine can actually make its own parts," said Gershefeld.
Rather than laying down materials flatly, layer after layer, it will be possible to print stronger, interlocking parts that build into huge structures. Just as pixels of different colors come together to form a picture, 3-D pixels will come in different "colors" or shapes.
Similar concepts are being explored inside the classroom. One PhD student at MIT has programmed a computer to make its own inexpensive circuit boards. Those can in turn be used to control the machine and used to run its self, and print its own parts.
It's incredible. If a simple "Can you 3-D print an airplane?" leads down the road to such innovation, imagine what other inventions are stemming from other questions.
Gershenfeld's MIT class inspired the opening a fab lab for its students. Afterwards, they were asked to help start more in other parts of the world. They started in Ghana. And in a few short years, 200 more exist around the world. Sure, they may not be of the MIT caliber, but they're linked globally to the existing network with video and online content.
You can check out where the nearest fab lab is near you.
The 3-D printing revolution is growing at an unprecedented rate, and it's only accelerating. Better yet, ideas are sprouting from the most unlikely of places — from the bottom up. The amount of technological disruption is going to be abundant.
You don't want to be left behind! Stay tuned.
Best,
Josh Grasmick
for Tomorrow in Review