The Dow is a Dog
The Dow Jones Industrial Average is a dog.
Investors are shredding the blue chips during this summer pullback. If the carnage continues, you'll need to reassess your holdings as the market limps toward the fourth quarter.
Sure, many stocks have dropped since the market peak a few weeks ago. But the Dow has managed to outpace them all. While the S&P 500 is down about 3.75% since the beginning of August, the Dow has dropped nearly 4.7% (that's more than 700 points, in case you're keeping track).
After this month's hiccup, the Dow is now trailing the S&P on the year…
I'm sure you've noticed that I don't usually refer back to the Dow when discussing market performance. The Dow makes for good TV fodder. And most people who aren't totally plugged into the world of finance tend to use it as their sole market barometer.
But the Dow isn't the ideal broad market gauge. It's composed of just 30 massive companies. If one of them has a bad day, it can inflict some serious damage on the average. That's because the index is price weighted. So the higher share prices drag down the index to a greater degree.
Have a look for yourself: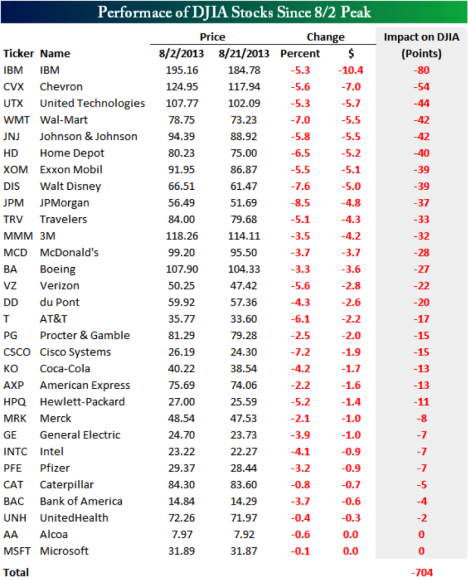 Source: Bespoke Investment Group
The first thing you'll probably notice is that every single Dow component has traded lower since August 2. You can also see that IBM has inflicted the most damage, despite not owning the biggest loser title…
"IBM has accounted for more than 11% of the total decline (80 points).  The second and third largest drags on the index are also triple-digit priced stocks as Chevron has been a 54-point drag and United Technologies has accounted for 44 points of downside," Bespoke Investment Group explains.
Many of these components are trading in no-man's land right now. They'll need to find new support before you take a shot at buying the dip. If you own a Dow stock that's taken a beating this month, it might be time to lighten up. If you're feeling opportunistic, a few of the stronger components could be setting up for solid bounces.
Regards,