The Hidden Story Behind the NASDAQ Glitch
Someone over at the NASDAQ plugged in the hairdryer while the toaster was still on…
There were plenty of quips like this one flying around Twitter yesterday after the NASDAQ short-circuited. After all, traders had plenty of downtime during the three-hour glitch to complain about the outage and give it appropriate nicknames like the "flash freeze".
Of course, the financial media pounced on the trading problems immediately, pumping out countless stories offering play-by-play analysis of the glitch.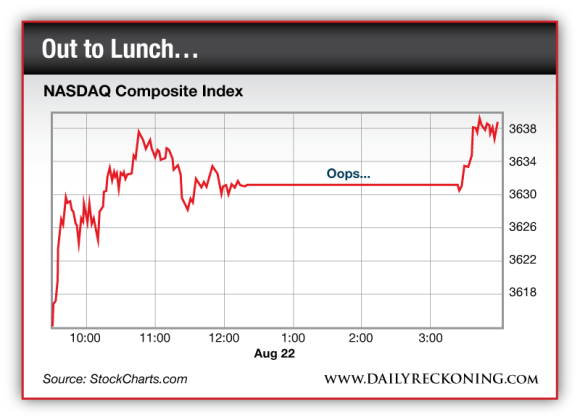 Watching the NASDAQ's long road to nowhere offered absolutely zero insight into the price action that's shaping the current market dip. So if the index's long lunch has you dealing with a market-related anxiety attack, allow me to provide a moment of clarity.
First and foremost, the NASDAQ glitch was not the important takeaway. In fact, I the exchange outage and the subsequent media frenzy actually distracted most investors from the session's important price action.  The real story was hidden in the small-cap and transportation sectors…
While the major indexes finished slightly higher, the Russell 2000 rose more than 1.4% yesterday. The Dow Jones Transportation Average jumped nearly 2%. Both of these indexes shot back above their respective 50-day moving averages.
These were crucial rallies in two indexes that have been clear market leaders so far this year.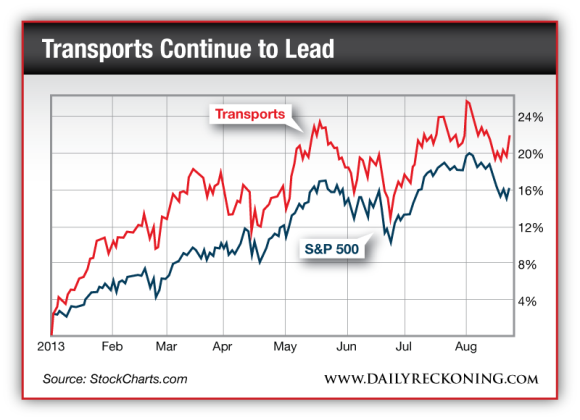 Since January, the S&P has followed along with every thrust higher in the transports. If this trend holds, I would expect the broad market to gain some traction heading into next week. The beaten-down industrials might even sharply reverse from these levels.
What you are seeing right now could very well be the foundations of yet another buyable dip. If we get some confirmation from the broad market, the beginnings of another yet another rally will materialize.
Regards,