How to Spark a Fear Rally
The sky is falling.
Investors are panicking.
But the market?
The S&P is down about 2.5% from its August 2nd peak.
What you're witnessing right now is the perfect recipe for a fear rally. I briefly mentioned Friday morning that investors pulled a net $9.4 billion out of U.S. stock funds last week. It's obvious the herd is terrified. Even the sentiment polls have sharply reversed from bullish to downright bearish…
"Turning to what caught my eye this week, sentiment polls showed some amazing spikes in fear on a less-than-5% pullback. As contrarians, this is exactly what you want to see," opines Ryan Detrick, Schaeffer's senior technical analyst. "It doesn't mean the market has to bottom here and now, but it increases the odds of a lasting rally once we get moving again."
Case in point: the American Association of Individual Investors poll. Detrick notes the bears (the poll now has them at 52%) have advanced for six consecutive weeks. That hasn't happened since the AAII poll first started 26 years ago…
Adding to the slipping sentiment numbers is hard evidence proving many investors want nothing more to do with this market. Turning back to fund outflows, you can clearly see investors have abruptly turned on this year's bull market.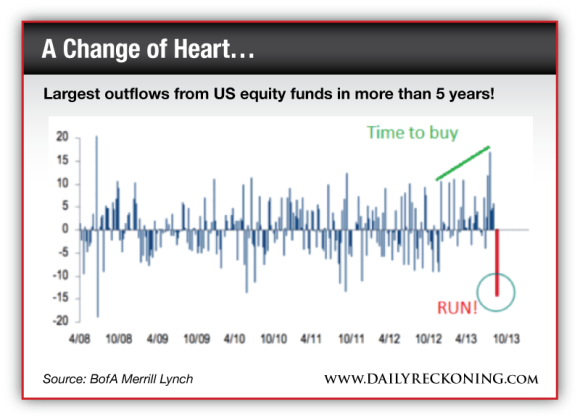 That's no mistake. We really did just witness the largest outflows from equity funds in more than five years. This fact is even more incredible when you realize that just two summers ago, eurozone fears helped crater the markets nearly 20%– yet this month's small dip has triggered far more selling…
Fund outflows and newly bearish sentiment are setting us up for a bounce. While I still don't like the weakness we're seeing in the Dow, popular momentum stocks have held up well during this market pause. If these names continue to move toward new breakouts, you can expect the overall market's performance to improve as well over the next couple of weeks.
Fight any urge to "trade scared" this week. Set your brain to buy-the-dip mode while most investors are running from the market…
Regards,