Forget Syria: Use Your Stock Market "Tunnel Vision"
If you focus on price action and tune out the noise, you can survive this market decline.
The market's sharp decline has sent investors scrambling this week. Our collective attention is now on the possibility of the West getting dragged into yet another Middle Eastern conflict.
Of course, the media are asking all the wrong questions. Here's my favorite so far:
Is Syria rocking the stock markets? Or is this a correction?
It's exhausting listening to these arguments. Many investors (along with the financial media) spend so much of their time and energy trying to pinpoint the exact reasons behind every market move.
Don't fall into this trap.
The market awards no extra points for determining whether chemical attacks in Syria or a lackluster durable goods number is the dominant factor that's moving the markets. You can't phone your broker and tell him to refund your losses from yesterday's trading because the market is "just reacting to the bad news."
Forget everything you think you know about the market right now. It's time for some tunnel vision. Just the facts…
First, yesterday's decline was broad and relentless. More than 80% of stocks trading on U.S. exchanges ended the day lower. That's a change in character from the other declines we've seen so far this month. Momentum stocks held up relatively well—until yesterday.
Next, financial names continue to get hammered during this decline. Remember, these are the names that were leading the market higher earlier this summer.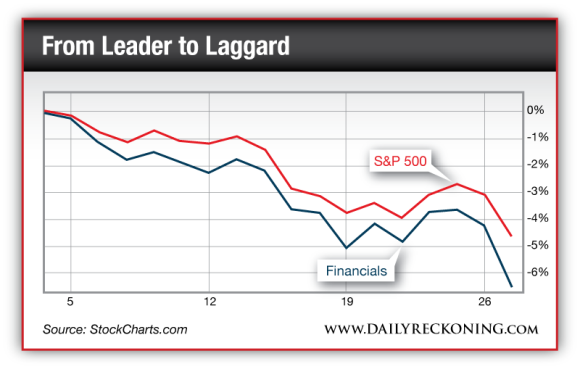 The broad market has already retraced more than 50% of its summer rally. If stocks can't find a floor soon, it will be time to start mapping out some revised price targets for the S&P…
Regards,