Is a 90% Down Day the Dawn of a New Day?
There comes a point in every correction when the selling reaches an extreme.
It's usually difficult to notice the opportunity on the surface– especially when all you see and feel is panic.
But if you're paying attention to the right signals, you'll know when it's time to shove your fear aside, close your eyes, and start buying again.
Right now, the market is whispering that the time to buy is fast approaching. So crawl out from your cellars and pay attention. Opportunity awaits…
I discussed yesterday how the characteristics of this market drop have changed. I told you more than 80% of stocks trading on U.S. exchanges fell Tuesday. But on the big exchange, an even higher percentage of stocks declined. To be exact, a whopping 92% of stocks on the NYSE landed in the red…
Miller Tabak's Jonathan Krinsky notes that more than 90% of NYSE stocks fell together only five other times so far this year…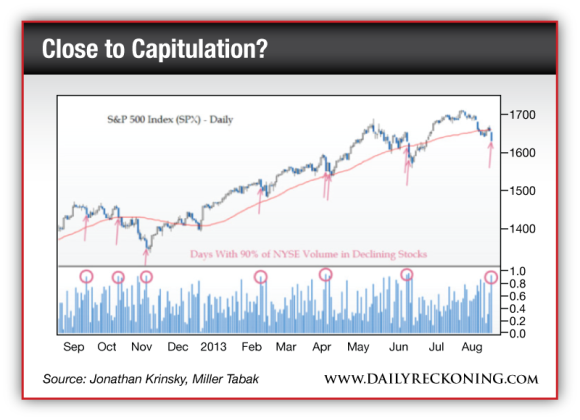 Each of these 90% down days was accompanied by high volume. And every single one of them signaled that the current dip had just about run its course. In each instance of a big 90% down day since the start of this year's market surge, stocks turned higher.
It's also important to point out that the 90% down days were not the exact low points of the each of the market dips. While they marked the sweeping moves lower, the market usually continued to slowly sink for a few more sessions before putting in a true bottom.
That's where we find ourselves now. It wouldn't surprise me to see the market wander lower heading into the long weekend. That would set us up perfectly for some renewed bullish action after Labor Day. This is your chance to plan for the potential bounce. Know what you want to buy heading into next week. If stocks start moving higher, you'll know the short-term bottom is in…
Regards,