The Best Reason to Bet Against Google Glass
Every morning, Meron Gribetz wakes up and goes for a run.
When he's done, he walks back into his rental house in the Santa Cruz Mountains.
Sitting a stone's throw away is the tech capital of the world — Silicon Valley. And Gribetz wants his company — Meta — to take its place among today's leading tech giants.
He's on the right track, too.
Gribetz, and a dozen or so employees, are on a mission to completely redesign the future. One where many everyday devices become obsolete and are replaced by an all-encompassing, high-tech world.
And they're making serious headway…
Hey, Google (GOOG)… there's a brand-new computerized headset in town. And there ain't room for both of you.
Meta's "Space Glasses" are crashing the party.
At first glance, they look large and cumbersome. A far cry from Google's sleek and slender "Google Glass" design.
But given what the technology promises to do, vanity isn't the priority right now.
Instead, they're focused on bringing greater reality into our world. An augmented reality, that is.
Specifically, with technology like this…

And this…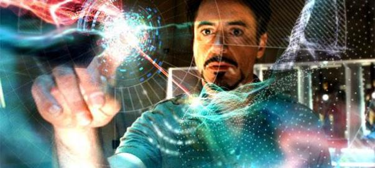 How?
In order to replicate the technology featured in movies like Minority Report and Iron Man (above), Meta has to overlay interactive 3-D content into your real-world surroundings.
Simple, right?!
Well, despite a slew of products in the wearable computing pipeline, the technology behind Space Glasses is far from simple.
That's because the central components of the Space Glasses are:
An infrared depth camera
A standard color camera
Two projectable LCDs (one for each eye)
An accelerometer
A gyroscope
A compass
Integrating all that technology into a pair of glasses isn't easy.
That's why Meta has called in an industry heavyweight — wearable computing visionary, Steve Mann.
Mann has advanced the idea of a head-worn computer since the 1970s. And while he didn't start Meta, the University of Toronto professor is the chief scientist behind its revolutionary product.
Here's what Meta has drawn up…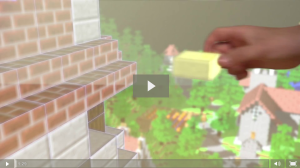 The video you watched is a demo of the interactive activities already built. For example, as you walk around, Space Glasses uses Meta's patented 3-D technology to track flat surfaces. It then uses that info to build a 3-D model of your surrounding environment.
And that's what sets it apart. Until now, augmented reality devices required special physical markers to digitally build immediate surroundings.
As it stands, Space Glasses don't have central or graphic processors, nor do they have a built-in battery, so you need to physically tether it to your computer.
But with Mann on board, the next model will come with this technology built in, plus major updates to the software.
The next step is to integrate these capabilities into everyday life with a consumer-ready version of Space Glasses. And the Meta team ultimately hopes to shrink the eyewear so it resembles regular glasses.
Space Glasses started off as a crowdfunded Kickstarter campaign, with a goal of $100,000. Support was so overwhelming, Meta finished with double that amount.
Backed by that funding, the product is advancing, and the target date for public launch is April 2014. At $667, it's cheaper than Google Glass, too.
And given the projected growth of the wearable computing industry, the timing is favorable for Space Glasses.
With the help of Steve Mann — one of the industry's best — Meta has raised the bar for augmented reality technology. I'll keep you posted on its progress.
Your eyes in the Pipeline,
Martin Biancuzzo
for The Daily Reckoning
Ed. Note: When Space Glasses hit the tech sector, it could be game over for Google Glass. Readers of Tomorrow in Review were given a specific way to play this emerging technology in today's free email edition. If you got it, you're in a much better position than most. If you didn't, you can start getting Tomorrow in Review sent straight to your inbox every day. Signing up is completely free and only takes about 30 seconds. Click here now to sign up right away.