Lazy Investors Nurse On Bull Market Teats
Buying an index fund and sitting on your hands just isn't cutting it this year.
Sure, the market's doing fine. You can't complain about much if you're making money. But you're not maximizing your returns if you refuse to shift your focus to the stocks and sectors that are leading the market rallies.
The market's changing behavior this summer shows just how important stock selection has become this year…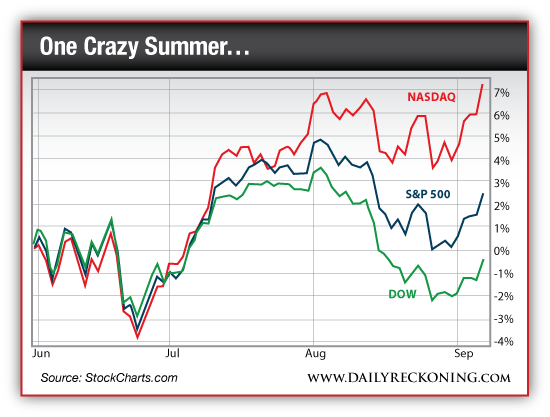 The summer began with the three major indexes in lockstep formation. When the Dow dropped, the NASDAQ followed. Same goes for the S&P. But by late July, the environment started to change. NASDAQ listed names leapfrogged their big brothers. And while the Dow started to sink and the S&P tripped, the NASDAQ held its ground and consolidated.
"The Nasdaq 100 pretty much managed to stay out of trouble throughout August even as other major indices like the S&P 500 and Dow Jones Industrial Average broke below their 50-day moving averages," reads a quick note from Bespoke Investment Group. "While the average stock in the S&P 500 is still down a couple percentage points since it hit its last all-time closing high on August 2nd, nearly half (47) of the stocks in the Nasdaq 100 are up since then."
Here's the thing…
For the most part, bull markets are forgiving. You can easily get away with more than a few dumb mistakes and still end up in the green. Maybe you held an underperforming homebuilder too long. Or you got stuck hanging onto an assortment of Dow components and missed out on the broad move higher last month. Doesn't matter. You aren't breaking the bank.
But if you really want to ramp up your performance and beat the averages, it's all about stock selection.
Have you taken the time to add small-cap names to your portfolio? The Russell 2000is up more than 23% year-to-date, compared to a 15% gain in the Dow.
What about tech stocks? Semiconductors are up more than 25% this year. Game changers like 3-D printing stocks and Tesla Motors are up much, much more.
Lazy investors get burned. Follow strength and you'll come out on top when the year is done…
Regards,
Greg Guenthner
for The Daily Reckoning
P.S. The laziest investors I know are the ones who don't want to learn anything. They're content with the information they get from CNBC's Squawk Box or the loud noises coming out of Jim Cramer. That's why I write The Rude Awakening every morning. I give my readers an honest, unfiltered look at the markets and give profitable advice you won't find in the mainstream. And it's completely free! So don't be another lazy investor. Sign up for free, right here, and start making more money than the other guys.