The Not-So-Industrial Dow
"The turnover in the Dow is getting ridiculous," declared my colleague Dave Gonigam in yesterday's 5 Min. Forecast. "Any chart of the index that goes back more than a couple of years is an apples-to-oranges comparison. Come Sept. 23, seven of the Dow's 30 components will be new arrivals within the last six years. Two of those slots have turned over twice during that span."
Dave's gripe is in reaction to the Dow's upcoming musical chairs act. Alcoa, Bank of America, and Hewlett-Packard are getting axed from the Big Board. Taking their places will be Goldman Sachs, Visa, and Nike.
He's not alone. Plenty of pundits and analysts are bemoaning the switch. After all, the Dow Jones Industrial's new additions aren't exactly industrial powerhouses. The NYT's Economix blog reminds us that back when the Dow first expanded to 30 names, it was filled with companies that actually made stuff. Just look at these names: American Can, General Railway Signal, Victor Talking Machine…
But if you're crying about the Dow's shunning of true industrial names, you're about 30 years too late. 1982 marked the beginning of the shift, when it added American Express. And even that was a long time coming, considering US manufacturing peaked decades earlier…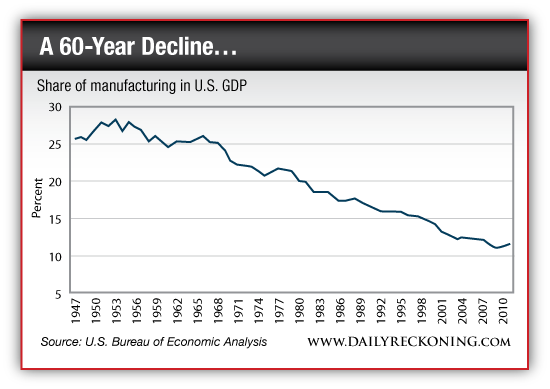 Plus, it's important to note that the ole' Dow has its own set of problems. Its structure is different from the other major indexes. The Dow is price weighted. The higher a component's share price, the more it will pull or drag on the average. So the low share prices of Alcoa and Bank of America weren't exactly balancing things out…
If the Dow is supposed to be a crude representation of our economy, it's doing a decent job with its banks, discount retailers, and junk food makers.

Bottom line: the Dow shakeup is a non-event. If you want a better representation of the broad market, look to the S&P 500 or the Russell 2000. The Dow is a great number to put on the evening news–but those 30 companies aren't the first and last word when it comes to market performance.
Regards,
Greg Guenthner
for The Daily Reckoning
P.S. There's more to this story than we reveal here… In this morning's Rude Awakening email edition I explained how you could actually make a buck off the Dow's changeover. If you didn't get it, we suggest you sign up for free right here. There will me another tip in tomorrow's issue.