Party With Bulls and You Might Get Gored
Here at Rude HQ, we love to watch cartoons.
No, I'm not spending my afternoons watching reruns of Wile E. Coyote in his futile quest to capture the Road Runner. Instead, I'm checking out the art in magazines and newspapers that provide a glimpse into the minds of countless investors…
In April, we were graced with the Barron's cartoon bull pogo-sticking over his bear nemesis, accompanied by a headline proclaiming "Dow 16,000!"
Then there was the massive front-page story in USAToday in early June pondering the potential longevity of the current rally. The paper even changed its blue logo into a silhouette of a bull.
While bullish covers are typically seen as contrarian indicators, the market roared higher after each of these issues hit the newsstands.
But now, the big kids are getting into the act. Behold the upcoming Time magazine cover: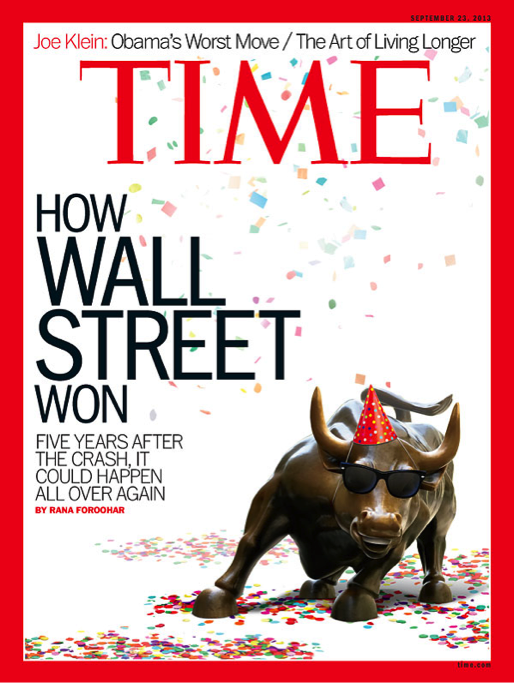 Ugh…
I've said before that I don't like it when stock stories end up the front page of the big, mainstream papers. And here's another one staring us in the face. I haven't seen it in person—so I also have yet to read the story. The cartoon bull partying is enough for me to label it optimistic. But the smaller part of the headline makes me think twice, since it hints that the story hits at the potential that the financial crisis could happen all over again…
Whether the story is meant to draw on the public's disdain for Wall Street "winning" while the middle class continues to stumble out of the lost decade, it's still an acknowledgement that the bull market is finally garnering attention from folks who have ignored stocks for years…
While I don't necessarily like what I'm seeing here, it would be a dumb move to time the market using headlines and magazine covers. If you sold out earlier based on the papers, you would have missed the meat of this year's big rally.
The longer-term market trend remains higher, which means that this year's rally remains innocent until proven guilty. Price will tell us when to act…
Regards,
Greg Guenthner
for The Daily Reckoning
P.S. Follow the numbers. I say it all the time. Noise in the mainstream media can be confusing at best… and downright harmful at worst. If you want to get a completely unbiased and unfiltered view of the markets, I suggest you sign up for The Rude Awakening. It's completely free, and gives you an in-depth look at why markets move the way they do. And in the process, you'll learn about special offers to make serious profits, no matter what the market does. Get your free subscription today, right here.