Open Season: The Hunt for Earnings in September
In just a couple of short weeks, the third quarter will slip away for good.
Mark your calendar. It could be a doozy. In fact, my colleague Jonas Elmerraji says that third quarter earnings could be the main factor standing between the market and its next surge higher this fall…
"Most investors think of earnings season as a positive thing for stocks — after all, it's the one peek at company performance that investors get each quarter," Jonas says. "But with the exception of the earnings season that started this past April, earnings have either brought downward or sideways correction over the last year."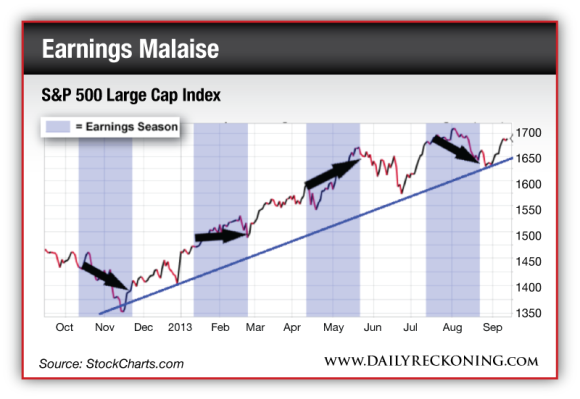 For the past year, every period in between earnings season has ended higher than it started. The market even managed to hit new highs just before earnings season kicked off in July after dealing with a sharp summer correction…
"Next earnings season kicks off on October 8," Jonas continues. "If the previous trend is any indication, stocks are likely to keep chugging higher between now and then, followed by some sideways consolidation."
Prognosticators continue to beat the crash drums. But compelling evidence for a big downswing just isn't out there right now. Jonas' hunch that we'll soon see the fear of missing out on the next big rally overcome the fear of getting caught in a crash seems much more plausible.
Remember, you have to give the rally the benefit of the doubt—even if we have to endure another choppy earnings season.
Just look at the carnage among the top-callers last month. In the blink of eye, we're knocking on the door to new highs…
Regards,
Greg Guenthner
for The Daily Reckoning
Ed. Note: Whether new highs are right around the corner or not, you'll want to be positioned to profit. Greg Guenthner offers his Rude Awakening subscribers the opportunity to do just that, ever single day. Sign up for free today, and start making huge gains no matter what the market does.