"Tapering is Coming to Eat Your Children!"
The next 48 hours are going to suck.
If you bother to turn on the TV (I strongly advise against this idea), the only financial news you'll hear about is the taper, speculation over the new Fed chair, or some combination of the two.
You know the drill. It's all about the Fed, stupid.
This taper talk is a nasty vortex that threatens to destroy any investor who dares approach. The financial news minions are bumping this taper vortex up to record strength as they roll out polls, pundits, and graphics…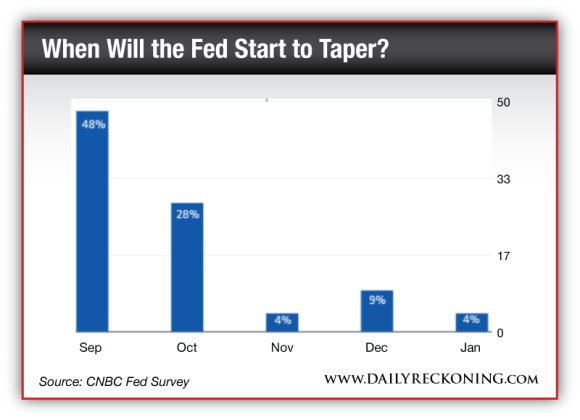 See? It's happening! Taper's coming. The vortex is gaining strength. It's going to eat your children…
"The September survey of 47 economists, money managers and Wall Street strategists found they expect on average a nearly $15 billion taper, with a plurality expecting the taper to be announced on Wednesday after the Fed's two-day meeting," gasps the CNBC story.
Forgive me for my lack of enthusiasm…
You can waste your breath on Fed speculation all you want. I'm much more interested in actual market data. You know—the actionable stuff that can make or break your year.
For instance, more than 18% of S&P 500 stocks hit 52-week highs yesterday, according to Bespoke Investment Group. That's the largest one-day total since August 1st. And despite lackluster performances from smaller stocks so far this week, it looks like the Dow is finally trying to playing catch-up with the broad market. Even if stocks do need a rest here, the market appears strong heading into the fall…
Of course, futures are stuck on pause this morning. I wouldn't expect too much action before Wednesday's Fed statement. While all eyes are on the Fed, you can stay ahead of the herd by tuning out the speculation. Avoid the taper vortex at all costs. The market's reaction is all that matters…
Greg Guenthner
for The Rude Awakening
Ed. Note: To get the most out of the daily market reactions, your best bet is to read The Rude Awakening. Each morning, Greg Guenthner gives you an unflinching look at the state of the markets, and gives you several chances to profit… with offers for real, actionable advice. And it's all completely free! Sign up for The Rude Awakening, right here, and start making money hand over fist, no matter what the market does.