The Next Leg Down for the Oil Price
Prepare for some quick-hitting, barstool analysis this morning…
After a furious summer breakout, crude continues to drop from last week's highs. Meanwhile, my go-to resource guy is ditching Maryland for a trip to the oil fields…
"I'm literally on a barstool at the airport, getting ready to head to Texas," reads the final message I received after a quick (and candid) back-and-forth with, Matt Insley from Daily Resource Hunter.
Matt and I were comparing notes before his afternoon flight. Needless to say, his macro outlook and the charts are in sync. Oil looks like it's rolling over. After a failed run at $110, it appears a trip back to double-digits is in crude's future…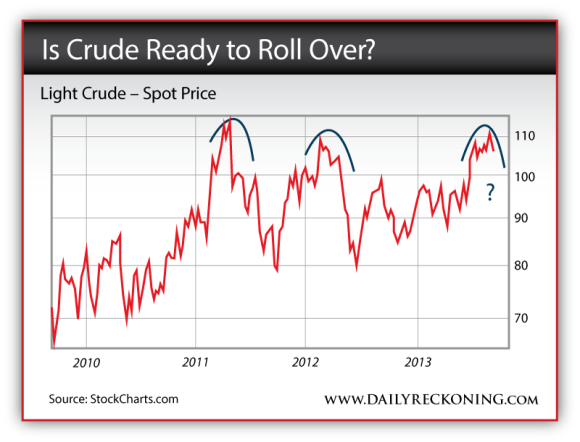 Crude failed just above $110 in early 2011 and early 2012. We're seeing very similar action this week after yet another go at the highs with no follow-through…
Matt sees another easy $15 to the downside thanks in part to a massive production glut across the globe:
"Point is the U.S. has been producing the hell out of oil and natural gas — THE HELL OUT OF IT — Frankly there's no peak in sight," Matt says. "Meanwhile, even though Libya has incurred a dramatic pullback in oil production, Iraq and Saudi Arabia are moving ahead full steam with oil exports. If the dust settles in the Middle East, and oil doesn't drop into the low 90s I'll be flabbergasted– and I don't often get flabbergasted."
"We're at like 7.5 million barrels per day right now in the U.S.," Matt continues. "Will we be at 8.5 million next year? More? Add that to Iraq– and a calm-down in the Middle East– then we're rollin'."
Regards,
Greg Guenthner
for Seven Figure Publishing
P.S. Matt and I briefly discussed a quick and easy way to play oil's drop. In this morning's Rude Awakening, I gave readers a unique chance to find out exactly what we discussed. If you didn't get it, there's still time to gain access. Click here to sign up for the Rude Awakening, right now.