Bullied Into Believing the Taper Talk
Was the speculation just too much for you?
Were you scared into sitting on the sidelines, waiting for the big, bad taper to blow over before getting back into the game?
Here's the deal:
You're getting jerked around. A ruthless bully is relieving you of your lunch money every day. And he ain't the Fed…
The broad market ripped to new all-time highs immediately after the taper died a public death at the hands of the Fed's press release. Gold exploded toward $1,375. Rates plummeted. The Dow launched through 15,700. Transports hit new highs, adding a Dow Theory bull market signal to the mix.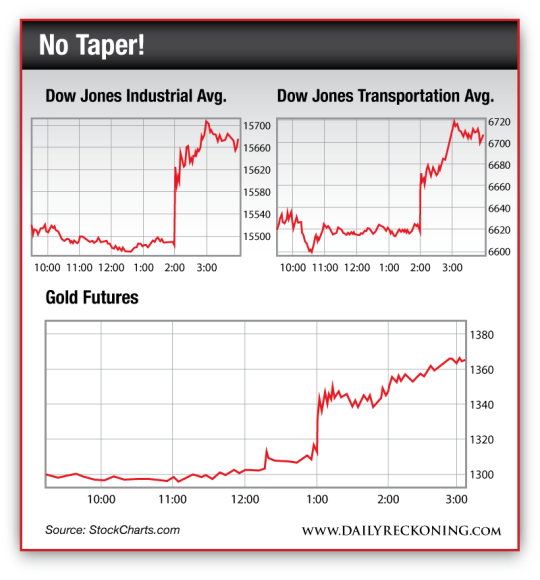 You've been fooled again. But it wasn't the Fed's doing. No, you were fooled by the endless, wrongheaded speculation of the financial media noise machine.
"Economists, analysts, pundits, commentators do not know…" writes Jon Boorman over at Alpha Capture. "They are paid to give you their best guess, and they have no money on the line. Their opinions are subjective. Don't follow them, don't trade on them."
First, you were distracted. Then paralyzed. You wasted your time worrying about the taper. You even ignored the broad market's huge, flashing buy signal when it bounced off support and began to move higher late last month. The September rally has already generated gains of more than 5%. Here we are—sitting at all-time highs in a raging bull market.
Price never lies. It doesn't speculate. Everyone's going to try to chase yesterday's huge thrust higher. That means you can take some gains off the table and wait for the fade that will set up what could potentially turn out to be a huge fourth quarter for stocks…
Regards,
Greg Guenthner
for Seven Figure Publishing
Ed. Note: Taper… no taper… some other type of Fed meddling… It's all just noise. And every day Greg Guenthner sifts through it, giving you an honest, unbiased look at the markets at large. Don't ever let the financial media make a fool of you again. Sign up for your FREE subscription to The Rude Awakening today.