Market Flashes Key Signals After Monday's Selloff
Forget about all the taper talk for minute.
Ditch the debt ceiling chatter, too. The market is (quietly) flashing a couple of key signals you need to carefully monitor…
First, a quick recap for you: The post-Fed rally is finished. The market gave it all back yesterday. However, watching the major indexes didn't offer you many clues beyond the obvious. The broad market shrugged Monday, with the S&P giving back about 8 points. Yawn…
But under the surface, financial names are sounding the alarm. Many of the big bank stocks are lagging the averages and posting nasty looking bearish setups. After an impressive performance most of this year, these stocks are quickly falling behind the averages.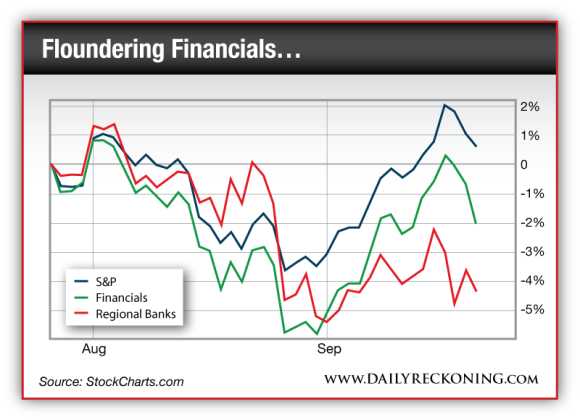 While the broad market has overcome its August swoon to post new highs, financials and regional banks couldn't get anything going over the past four weeks.
The Financials Select Sector SPDR (NYSE:XLF) fell just short of topping its July highs during last week's no-taper rally. The SPDR Regional Banking Index ETF (NYSE:KRE) looks even worse. Regional banks couldn't even put together a serious attempt to challenge their August highs this month. Instead, KRE failed after a feeble attempt to regain its 50-day moving average last week…
All told, financials are off by more than 2% over the past month, while regional banks are down by more than 4.3%. I really liked both of these sectors over the summer. In fact, KRE posted an amazing run from May through July. However, this recent weakness has been ugly. It's time to get out of the way of both financials and regional banks and move on to other potential opportunities…
Regards,
Greg Guenthner
for Seven Figure Publishing
Ed. Note: This essay was originally featured in The Rude Awakening – a free newsletter that gives readers an honest and unfiltered look at movement in the markets… and this is only half of it. There is much more information packed into this brief morning roundup, including daily targets and trends, Greg's best predictions and a few important numbers thrown in for good measure. And you can read it all in about 5 minutes. Consider it a morning cup of coffee for your portfolio. Sign up for free, right here, and start your day off right.