The Best Investment Strategy During the Market's Bumpy Ride
"They're pushing us closer and closer to a government shutdown that would tank the economy…"
That's the latest whining coming out of Washington today as an Obamacare protest speech on the Senate floor steals headlines. If that's not enough political theater for you, a new report from Moody's declares that the government's failure to raise the debt ceiling would actually be worse for financial markets than a government shutdown. Super…
I have no appetite for politics. Every few months, our elected officials attempt to derail the markets with one epically stupid move after another. Sure, most of it is just noise. But the sound has become deafening. When one distraction ends, another begins.
It's all too easy to get caught up in the nonsense. But you have to realize that following the trend has proven successful time and again during the rally that began almost one year ago. Remember our mantra from earlier this month when taper-talk was all the rage: The market has met every single "negative catalyst" with higher prices.
Despite the fact that the broad market has coughed up all of its post-Fed gains, the charts show us that stocks aren't in trouble just yet…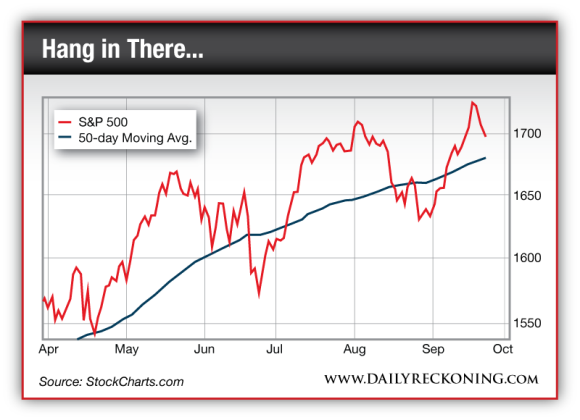 It hasn't been the smoothest ride over the past six months. But the S&P has managed to follow every sharp move lower with a powerful run to new highs…
Still, futures are drifting a little lower early this morning. If the market drops today, it will be the fifth straight trading day in the red. Additional downside from here wouldn't surprise me.
However, even with a retreat at or below the 50-day moving average, the market could set up nicely for higher prices in the fourth quarter. This market has offered traders plenty of opportunities to take profits over the past week. The overbought conditions are quickly vanishing. Now's the time to prepare for a potential bounce…
Regards,
Greg Guenthner
for The Daily Reckoning
Ed. Note: There's more to this story than Greg lets on here. In his Rude Awakening email, he gives readers a full rundown on his predictions, details likely trends and provides a few key numbers to watch over the near future. Sign up for FREE, right here, and start getting the full story.