Market Tug-of-War Over Government Shutdown
Two forces are at play right now that will determine how the market finishes the year. One leads to much higher prices. The other could spark a volatile selloff…
Here's the deal: Tomorrow, the fourth quarter begins. A potential federal government shutdown looms at midnight. But underinvested (and under-performing) fund managers and traders are looking for catch-up opportunities.
It's time for tug-of-war. Government lunacy vs. year-end momentum chasing at its finest!
First, let's take a brief look at the debt ceiling standoff. An eleventh-hour deal looks unlikely at this point. But if you recall, the fiscal cliff bargain that started 2013 actually came in after the mandated deadline. It wouldn't surprise me to see these clowns come in with a late save again. However…
"The big surprise isn't that the majority of politicians do the wrong thing," muses Peter Coyne in the friendly confines of the DR. "The shocker is… we're surprised each time they do!"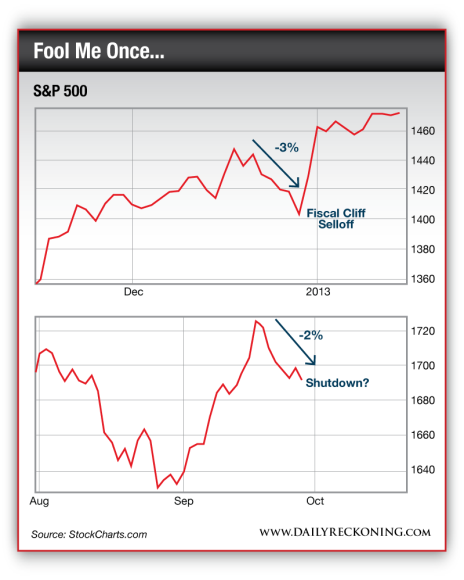 Still, the similarities between the fiscal cliff market reaction and the current shutdown threat are striking. The broad market fell six out of seven days immediately leading up to the fiscal cliff scare. So far this time around, the market is down six out of seven sessions heading into the debt ceiling shutdown (excluding today's action, of course).
Now's not the time to get wrapped up in the implications of a shutdown and what it might affect. That kind of speculation does nothing for your investing strategy. Instead, just follow the money. If investors continue to sell and push the market below support, you can bail. Simple as that…
But if we do see stocks move off their lows this week and push higher, get ready for what could be a fast, powerful rally. This year's fourth quarter is setting up for a big chase higher if, if, we can get that initial push to help with the launch.
There's no room for fear in either scenario. Let the market guide you this week and you'll survive.
Regards,
Greg Guenthner
for Seven Figure Publishing
Ed. Note: Whether a government shutdown happens or not; whether the markets rally to new highs, or whether they plummet to new lows… there will always be someplace to put your money. The Rude Awakening aims to help you know where, by keeping you informed each morning with an honest and unfiltered look at the day's market moves. But this article is only about a third of the full Rude Awakening. To get the full story, sign up for the FREE email edition, complete with trends, predictions and a full set of numbers to watch. Don't wait. Sign up for free, right now, and learn just what to do in the event of a government shutdown.