One Investment That's Beating the Government Shutdown
Even amid the idiocy of a government shutdown, it's difficult to get aggressively bearish when small-cap and momentum names are working so well.
Right now, the big averages just aren't telling the whole story…
While the Dow Jones Industrial Average has barely squeezed out a 2% gain over the past month, the small-cap Russell 2000 has gained more than 6%. And that's just over the past four weeks. Even when big, negative news events like a government shutdown appear to derail the market, the strongest groups of stocks have essentially ignored the situation entirely.
On the first day of the shutdown, the Russell clocked a new high. But the S&P and Dow were nowhere to be found.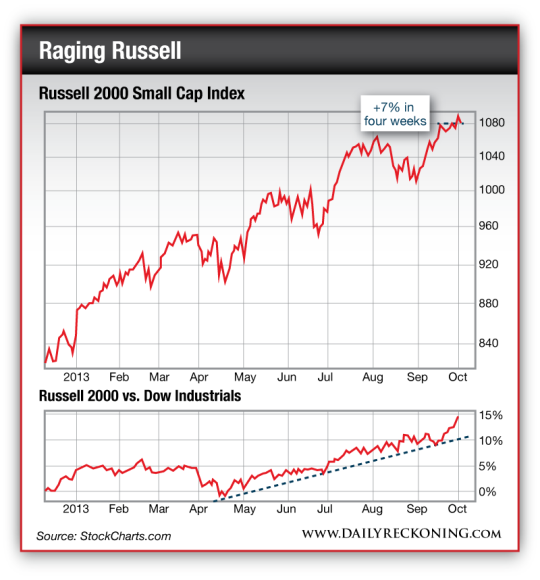 This is just the latest chapter in small-cap outperformance. Aside from the Dow briefly taking top performance billing in April, small-stocks have scorched their larger cousins. Most didn't even miss a beat during either broad market pullback in June or August. Even the post no-taper swoon couldn't rattle the Russell…
Traders have enjoyed countless opportunities to ride small caps to big gains over the past several months. Heck, even longer-term minded investors have amassed incredible track records using small-cap strategies over the past year…
Even if you haven't touched any smaller names at all this year (but seriously—you'd have to be clinically insane to ignore this sector) you can still use the Russell as a market bellwether. If small-caps truly are the canary in the market's coal mine, it's not time to sell everything and run just yet…
Regards,
Greg Guenthner
for The Daily Reckoning
P.S. In this morning's Rude Awakening email edition, I gave readers 4 specific opportunities to discover just how to profit during the government shutdown. If you didn't receive that email, don't worry. You can sign up for free, right here, and get tomorrow's Rude Awakening delivered straight to your inbox. It only takes about 30 seconds, there is no obligation and it's completely free! So what do you have to lose? Click here to sign up now.