Forget Twitter: Betting on an Even Better IPO
Voxeljet utilizes powder binding technology, whereby a glue or 'binder' is jetted from an inkjet-style print head to stick together successive powder layers. Powder binding typically has faster build speeds and lower materials costs relative to other technologies currently available in 3-D printing. The company is currently developing new material sets including ceramics, silicon carbide and tungsten carbide. The addition of ceramics in particular is noteworthy, as this is material is now being used in the burgeoning medical implant/orthopedic market for 3-D printing. voxeljet's patent portfolio consists of over 170 U.S. and international patents and patent applications.
The company launched an innovative, new printer this year called the VXC800. Billed as "the world's first continuous 3-D printer," this system utilizes patented technology consisting of a horizontal conveyor belt that controls the layer building. Layers are built at the entrance of the conveyor while the unpacking takes place at the exit. As a result, there are virtually no restrictions on build length, creating a strong competitive advantage for the company.
You can see an example of the VXC800 in action here:
Voxeljet generates revenue from two primary segments: direct sales of five different printer systems and sales of on-demand printing through their services segment. Their systems segment consists of five industrial 3-D printer systems, with a sixth system set for launch by the end of 2013. Build spaces run from 300 x 200 x 150 mm with the VX200 printer up to a whopping 4 x 2 x 1 meters with the VX4000. Due to the large build boxes and fast print speeds in their lineup, volumetric outputs range from 0.7 liters per hour to an industry-leading 123 liters per hour.
The services segment is comprised of one of Europe's largest centers for on-demand production of metal-casting molds and models. The company offers a complete solution from CAD-file to finished casting for prototypes and small series production.
The two segments are complimentary, and the new service centers for on-demand parts the company plans to launch in North America and Asia with proceeds from the IPO should lead to an increase in direct sales of printers. This "3-D printing services to 3-D printer sales" model is what ExOne and other companies in the space utilize.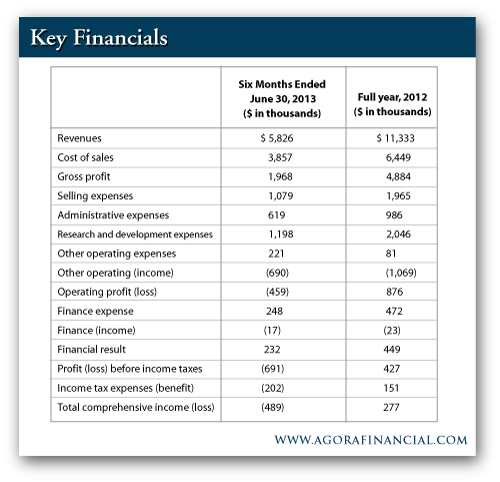 A quick glance at the first half of 2013 would suggest the company is going in the wrong direction, but I believe this is likely a one-off event. I've included management's discussion of the financials below for clarity.
Management's Discussion of Financials
"The decrease in gross profit was mainly due to higher cost of sales in the first six months of 2013, which resulted primarily from the sale of one 3-D printer at a higher-than-normal cost of sales and lower gross margin than we would achieve for a typical 3-D printer sale. This 3-D printer was one of the first produced of its type, requiring a longer production time and higher material usage than a 3-D printer in regular production.

"Additionally, we delivered this 3-D printer to our customer on very short notice, thereby incurring additional material and overtime costs, further depressing our margin. We intend to sell additional units of this 3-D printer in the future and expect to achieve gross margins on these sales that are more in line with our prior result.

"Our ability to grow Services segment revenues was constrained by continued capacity limitations in our service center. Although the volume of printed parts increased, our revenues decreased due to the sale of lower-priced parts. To remain flexible and grow revenues in the future, we are in the process of increasing production capacity both by expanding our current facility and planning the opening of new facilities. Currently, our new fabrication building is being built at our premises in Germany."
Revenue grew at a CAGR of 35% from 2010-12. This is higher than the industry's growth rate discussed previously for the same period. voxeljet sold just three printers in the first half of 2013 at a lower average price. That said, as of June 30, voxeljet had a backlog of seven printers and $6.9 million in sales, the majority of which are expected to be shipped by the end of 2013. As a result, their direct systems sales segment should experience 100%-plus sequential half-year revenue growth.
The company also notes that their sales are typically seasonal, corresponding with the capital budgeting cycles of customers. As a result, sales have historically been stronger in the second and fourth fiscal quarters.
Competitive Advantages and Growth Drivers
I believe voxeljet has several substantial competitive advantages including the largest build platforms, fastest build speeds and largest volumetric production capabilities in the industry. Moreover, the new and patented VXC800 continuous 3-D printer is an amazing machine with virtually no limitations on build length. This machine has the potential to be a game-changing product for both voxeljet and, in some ways, the industry.
The company operates exclusively in the industrial/commercial end of the 3-D printing industry where forward growth has been predicted to be the strongest. While some believe growth in the desktop 3-D printer market will surprise industry experts, I believe the landscape will be extremely competitive and margins squeezed.
With their European production facilities now undergoing expansion from 16,000 to 40,000 square feet; funds from the IPO earmarked for the launching of service centers in North America and Asia; and machines that lead the industry in build box size, speed and volumetric production, I expect this company with a small "v" to make a big splash on the NYSE when it launches.
Regards,
Gary Anderson
for The Daily Reckoning
Ed. Note: If you're new to 3-D printing, or are simply interested in starting to invest in this space, there's no better way to start than by signing up for Tomorrow in Review. This free newsletter regularly discusses emerging 3-D printing companies and offers readers special opportunities to profit. Get in ahead of the curve. Sign up for Tomorrow in Review, for FREE, right here and start taking full advantage of this rapidly moving investment story.