Overcoming the Fear of a Dying Market
It's worse than it looks…
The major averages continued to backpedal yesterday. The NASDAQ led the way with a 2% loss on the day. But this is only part of the story.
The market inflicted most of its damage below the surface—out of the reach of the Dow and S&P. Today, I'm going to show you three charts that highlight how fear is quickly creeping back into this market…
First up is a spike in the 1-Month US Treasury Bill: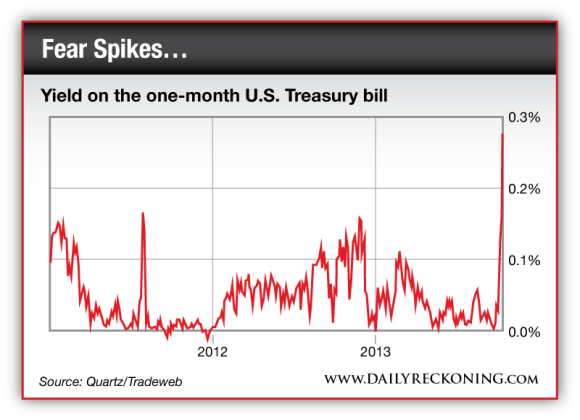 The yield on the 1-Month T-Bill is currently 5 standard deviations above its 50-day moving average, according to Bespoke Investment Group. This shows that investors are genuinely spooked at the possibility of a debt default happening before the end of the month…
As you can see from the chart, this is a much bigger spike than the one we witnessed during the 2011 (when the market coughed up 19% over similar debt ceiling fears mixed with the Eurozone crisis).
Next up is the Volatility Index: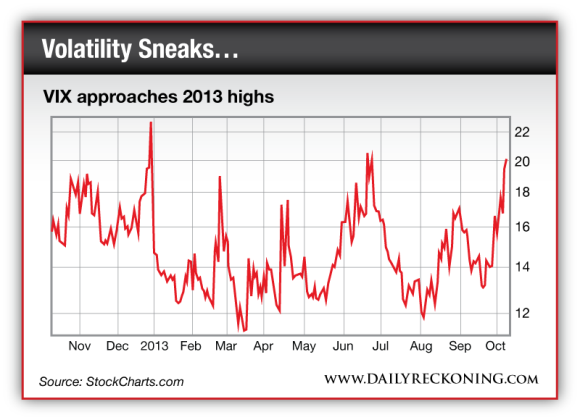 Thanks to a tumbling market, the unofficial "fear gauge" is starting to spike. It's now within spitting distance of its summer highs…
Finally, there's the sharp breakdown in tech and other momentum names: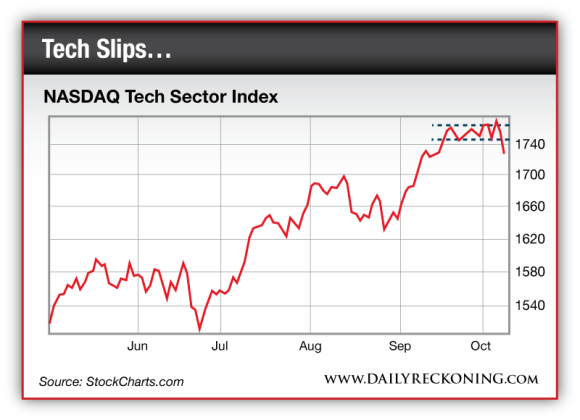 The NASDAQ Tech Sector Index isn't the ugliest chart I could have printed. But it tells an important story. The tech high-flyers that have dominated the winner's column over the past several weeks are beginning to nosedive.
The carnage is much more noticeable among individual names. YELP dropped nearly 8% on the day. Facebook shares lost more than 6%. In fact, anything that has produced big gains over the past couple of weeks is getting slaughtered…
Here's the thing with momentum: It works until it doesn't. And it's tough to trust a market where so many leading stocks get chopped down in one trading day.
Forget about moving averages and oversold levels for a second. Now's not the time to take a shot at any of these names on the long side. More selling could appear just around the corner…
Regards,