One Investment Megatrend is Impervious to the Shutdown
With our collective attention squarely focused on the daily failures in Washington, important economic trends continue to fly just under the radar.
But if you step away from the circus for a minute, you might be surprised at what you see…
For instance, no one's talking about oil today. Instead, all of the chatter revolves around Yellen's nomination or the possibility of a short-term debt deal.
Forget about that garbage for the next 30 seconds.
Here's the reality we're waking up to this morning: The U.S. will finish 2013 as the world's largest producer of petroleum and natural gas. That's right. In just a couple of short months, the U.S. will pass Russia and Saudi Arabia when it comes to oil production…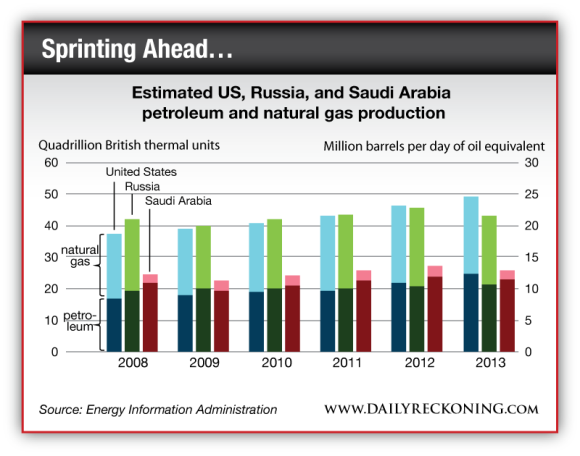 "Forget the media spin," says our in-house resource guru Matt Insley. "There's a much more positive story that we're not seeing. The U.S. economy – you know, the real nuts and bolts behind all of this government s**t show – is doing quite well. And believe who you will, but it all comes back to the reemergence of U.S. oil and gas production."
For most investors, this megatrend was close to unthinkable just a few years ago. Yet here it is—staring us all in the face. 
While everyone else sits paralyzed by the government shutdown and debt ceiling antics, you have a chance to play the earliest stages of the American oil megatrend. Don't miss it…
Regards,
Greg Guenthner
for The Daily Reckoning
P.S. We've found a new way to play the next round of America's energy comeback. And you won't believe where it is. Readers of the Rude Awakening email edition were given an opportunity to find out. If you didn't see it, not to worry. We'll be be talking more about this story in coming issues. Sign up for FREE, right here, and never miss another profit opportunity like this one.