Federal Bloodsuckers Can't Kill the Bull Market
Feeling dizzy yet?
After a dismal start to the month, stocks have found some footing. The Dow jumped nearly 323 points—a feat we haven't witnessed since December 2011. The S&P has erased all of its October losses. After tanking for weeks, a broad market rally has emerged in this manic market.
This monster move comes to us courtesy of our dear friends in Washington. In their infinite wisdom, they blessed us with the beginnings of negotiations that could (maybe) end the standoff over the 10-day old shutdown…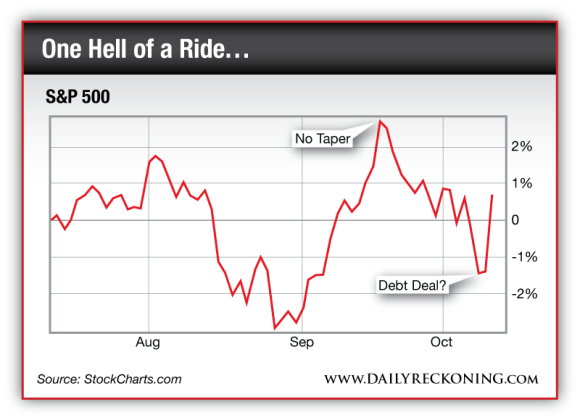 I hate it when politics gets in the way of the markets. There's nothing worse than the bloodsuckers interrupting our regularly scheduled trends with their manufactured chaos. But that's the hand we're dealt. We have no choice but to make it work…
Earlier this year, the market was easier. It was forgiving. You didn't have to deal with too many whipsaws or big pullbacks. Stocks went up on the regular. Even if you were throwing darts, you had a pretty good shot at making some money. That's not the case right now. You have to get tactical. You must be willing to cut your losers and search the market for what's working now—not what made you money a month ago.
Despite the momentum shift, there's some encouraging signs that show the bull market ain't dead yet.
Bespoke Investment Group notes that as of yesterday's close, nine of ten S&P 500 sectors are back above their 50-days. Telecom is the only holdout. Sure, it looks a lot less scary out there right now. But I don't know what will happen in Washington. You don't either. All we can do is carefully monitor the market's reaction and make the best possible judgments for each and every buy and sell.
Regards,
Greg Guenthner
for The Daily Reckoning
Ed. Note: In today's Rude Awakening email edition, Greg goes on to provide 5 interesting numbers that investors should pay attention to right now, along with a rundown on some important trends he's currently following very closely. If you didn't get the Rude Awakening email edition, you didn't get the whole story. Click here now to sign up for FREE, and be sure to get the most out of Greg's expert analysis.