Congress Prank Calls 911
Congress climbed the highest bridge in town, called 911 and threatened to jump.
First responders recognized the voice on the other end of the line, of course. They've called before. Each time, the negotiator has talked these misguided fools off the ledge.
Sure, this is probably another cry for attention. But we still have to get the police on the scene. Have the firefighters hold out the big net. It might be a waste of time and resources. But we can't just ignore the problem, right?
So here we are. The spectacle will (supposedly) reach its climax today. The media breathlessly reports on every word as traders jockey for position in the markets. As much as I'd like to ignore it all, it's nearly impossible to miss all the flashing lights and sirens…
Luckily, we're reminded that it could be worse. A lot worse, in fact.
"As a result of the stalemate in Washington, the S&P 500's average daily percentage move has increased since mid-September," reports Bespoke Investment Group. "Looking at the chart below, even after the recent uptick in the average daily move of the S&P 500, it is still less than a third of the day to day volatility that we saw back during the 2011 debt ceiling debate. In fact, it is actually much closer to its lows of the last three years than it is to its highs. It may be raining now, but it is far from pouring."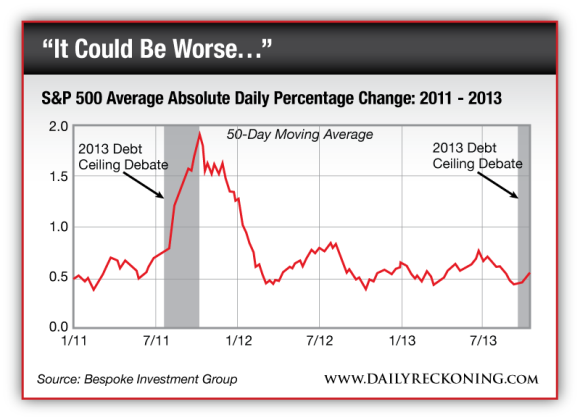 Judging by the market's reactions so far this week, it feels like a debt ceiling resolution failure is not baked into the pie. The default stance is the belief that a last-minute deal will emerge. That might be true. But again, that's no guarantee that the market will snap back to new highs.
The news doesn't matter. Investors' reaction to the news is what counts. Now's not the time to go nuts guessing "deal or no deal". You could get burned either way.
Regards,
Greg Guenthner
for The Daily Reckoning
Ed. Note: Stay vigilant. Don't play the news. Watch the markets and try your best to invest accordingly. Greg Guenthner explains, in detail, how to do just that, every single morning. Every day, before the market opens, Greg sends his Rude Awakening email readers an honest, unfiltered rundown of the current markets, and what he sees for the day ahead. If you're not getting the Rude Awakening email edition, you're only getting half the story. Sign up for FREE, right here, and start getting prepared for whatever comes next.