Checklist for a Healthy Stock Market
Post-Fed meeting swoon?
Check.
Shutdown jitters?
Check.
Furious push to new highs?
Check.
But something's missing…
What the hell happened to the Dow?
Even compared to the large-caps in the S&P 500, the Dow Industrials have fallen woefully behind the rest of the market. Dow components have underperformed their other large-cap brothers since July. It feels like every time the market dips, the Dow gets hit the hardest…
Back in August, I told you the Dow was a dog. On Aug. 22, every single Dow component was cheaper than it was on the first of the month. Most of the Dow components had beat charts in late summer. Today, many of them aren't looking any better.
On the other hand, the transports are pushing new highs along with the S&P 500 and the Russell 2000 this week. Transportation names have been gaining strength since mid-August. The chart looks much healthier.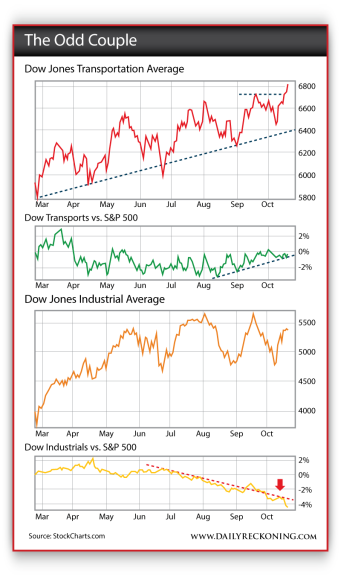 While we haven't seen any major breakdowns in the industrials, it's best to look elsewhere for your next trade. What we have here is a case of different groups of stocks flowing from "in favor" to "out of favor". The industrials were red hot earlier this year while investors still craved the safety trade. Now, they're cooling off as small-cap and mid-cap names (and even transports) attract newfound attention.
It's good to see this kind of rotation happen. It's a sign of a healthy market. Stay focused on the leaders as we dive deeper into this fourth-quarter market melt up. That's where you'll continue to find the best trading opportunities…
Regards,
Greg Guenthner
for The Daily Reckoning
Ed. Note: Every morning, Greg gives his Rude Awakening email readers 5 numbers to watch in the trading day ahead. They range from targets, to predictions to outright wild guesses… but they're always thought-provoking and can lead investors to think creatively about the day's market moves. It's just one small benefit of reading the Rude Awakening email. If you're not a subscriber, you're only getting half the story. But not to worry. You can sign up for FREE, right here. It only takes about 30 seconds and you can cancel any time. So what do you have to lose? Click here now to get started.