Buying the Builders Ahead of the Worry Warts
As positive earnings news from Amazon and Microsoft distract investors early this morning, a new rally in homebuilder stocks is percolating…
Some quick background info for you:
I told you easy gains from homebuilding stocks ended earlier this year. Every comeback trade needs its initial washout. We saw just that in homebuilders back in the spring and summer. These names were great buys in 2011 and 2012. But they've underperformed the broad market in 2013.
The simple fact is expectations ran wild. A rebounding real estate market isn't a secret anymore. People all over the country saw the pickup in sales and construction. The trade became too crowded.
But after consolidating since May, it looks like homebuilders have flushed out many of the weak hands. Now, the iShares Dow Jones US Home Construction ETF has started to make a move…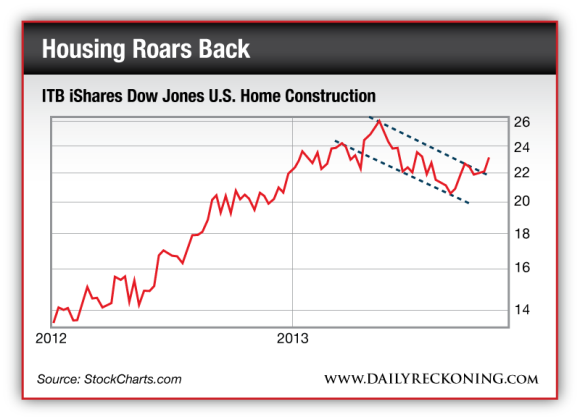 I warned you earlier this year that the easy part of the housing comeback was over. We already saw these stocks deliver killer gains as they bounced off historically low prices. That's when the worries started. The housing story isn't as simple as families upgrading or moving to new towns. Instead, all-cash buyers and institutions are driving sales in many parts of the country. That's the reality of the housing market right now…
Frankly, I like how new concerns have surfaced. It gives these stocks a wall of worry to climb. While the herd attempts to decipher what all of this means for the market in the long term, the charts are telling us that homebuilders are a buy right now. Don't ignore the signal…
Regards,
Greg Guenthner
for The Daily Reckoning
Ed. Note: "Buy when there's blood in the streets" they say. Well, with "new concerns" in the homebuilding space, now may be a good time to buy ahead of the curve. But this is only half the story. In this morning's Rude Awakening email edition, Greg goes into a bit more detail, offering up 5 "Rude Numbers" you need to be paying attention to right now as well as a few trends to keep in mind while you're at it. It's just a small benefit of the free Rude Awakening email edition. If you're not reader yet, you can sign up for free, right here.