Stock Markets in October Always a Wild Ride
After a brief hiatus, boring stocks are back.
Consumer sentiment might have dropped this week — but that hasn't stopped consumer stocks from moving to the head of the class. Big dividend payers like Proctor & Gamble and Johnson & Johnson are getting plenty of love from investors, while many of the momentum names that pushed the market higher last month haven't budged…
While financial and materials stocks have lagged, consumer staples and cyclical names are surging. The big, safe stocks everyone wanted earlier this year are suddenly back in focus. Staples have gained more than 2.4% on the week, while cyclicals (shopping and entertainment names) have gained 1.5%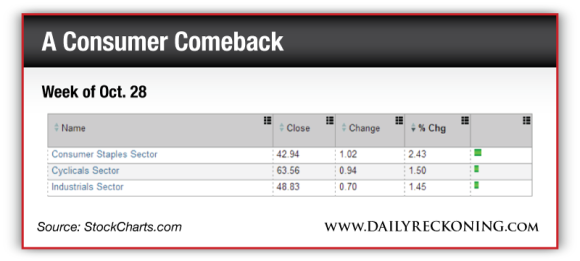 So is this shift a sign that investors are beginning to get a little cautious? Maybe. But it's also a good sign that the Dow is making up lost ground.
I've alerted you to the lagging Dow's back-and-forth action since the summer. While small-cap and mid-cap names streaked to new highs, the industrials seemed to want little to do with the broad market rally. Until now…
After a 111 point gain yesterday, the Dow Jones Industrial Average is back within spitting distance of its all-time highs. Another decent gain today would put the Big Board back on top.
While the S&P is getting a little overheated right now, the Dow has picked up the slack. That's healthy market action as we race toward the end of a wild trading month…
Regards,
Greg Guenthner
for The Daily Reckoning
Ed. Note: So the Dow is picking up speed… so what? The real question is how do you take advantage of it. That's why Greg writes the Rude Awakening email edition. Every morning he sends his readers an honest and unfiltered look at the day ahead for the markets – complete with 5 specific numbers to watch and at least 3 specific chances at actionable profit opportunities. It's all part of being a subscriber to the Rude Awakening, and it's completely free! So you've got nothing to lose. Just sign up right here, and start making the most out of this incredible run-up in the markets.