Earnings Season Not the Usual Bloodbath
Your investments are in jeopardy.
You've entered the heart of earnings season this week. It's a war out there. If you aren't careful, wild price swings will tear your portfolio to shreds.
You know the routine. Every three months, investors scramble for their flak jackets as their favorite companies report numbers. Meanwhile, traders head for the exits as potential trend-breaking news approaches.
But wait…
The Battle of the Third Quarter has been quiet. Too quiet. Just a handful of casualties by my count. No carnage to be found. No major whipsaws (minus a few tech names).
Here are the numbers from Bespoke Investment Group:
As of yesterday afternoon, 1,444 companies have reported. But instead of the massive moves some pundits predicted, earnings reactions have been downright mundane. So far, the average stock has gained a measly 0.18% on its report day.
"Earnings season can really be a rough time for the market," reads the Bespoke report. "But over the past year and a half, it hasn't made investors very scared at all."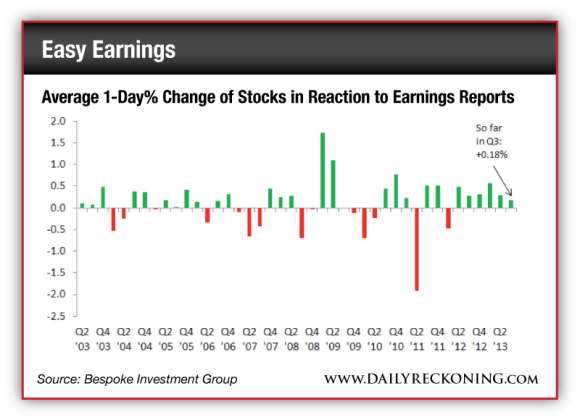 Here's where we stand right now: If the current trend holds through the end of this earnings season, it will be the sixth consecutive quarter of earnings day gains for the average stock. That breaks the recent record of four consecutive quarters of gains from 2005.
Smooth sailing for earnings means more ammo for the fourth quarter melt-up. With no big disappointments this week, I don't see too much standing in the way of additional broad market gains before the end of the year. We haven't seen the highs just yet…
Regards,
Greg Guenthner
for The Daily Reckoning
Ed. Note: While the highs may still be forthcoming, as Greg also points out, it's important to be careful this earnings season. You'll want to make sure you have as much ammo as possible to take down gains in this market. The Rude Awakening email edition can give you that ammo, every morning before the opening bell. It's a quick, honest and unfiltered look at the day's market moves, complete with 5 specific numbers to watch and no less than 3 specific opportunities to learn about exactly where you should be putting your money. So, before the true highs of earnings season kick in, be sure to sign up for the FREE Rude Awakening email edition, right here.